The apprenticeship of a woodworker begins at childhood and ends with his last breath.
*Subscribe to Ben's Woodworking Videos.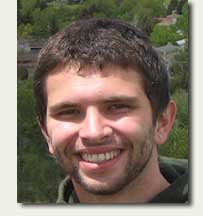 Somewhere, somehow, within this contraption hides a glorious secret.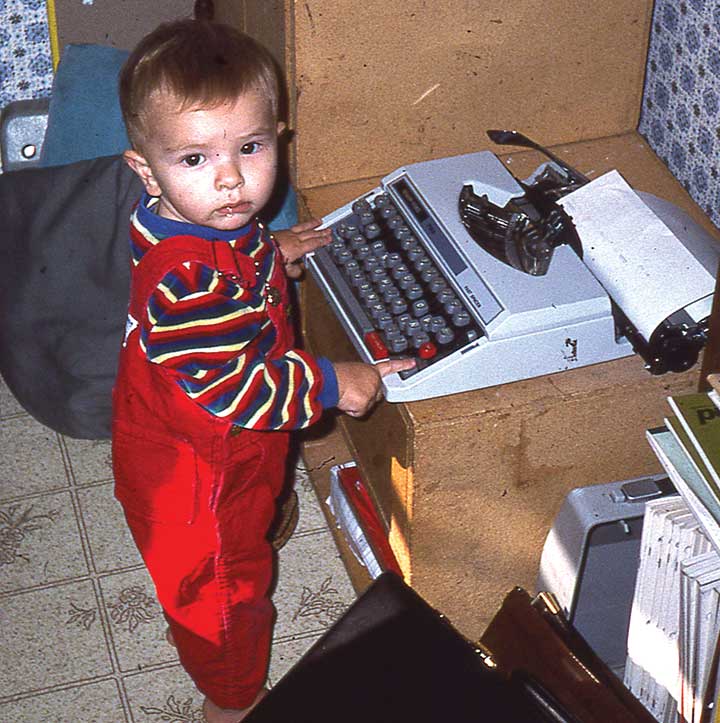 Accessorized with an Illinois apron and hammer belonging to previous generations.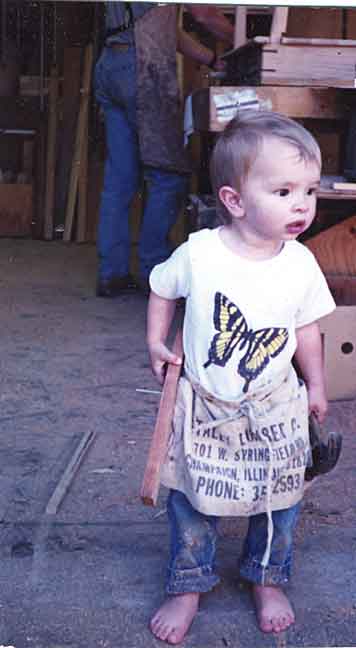 Finally, an apron that fits him.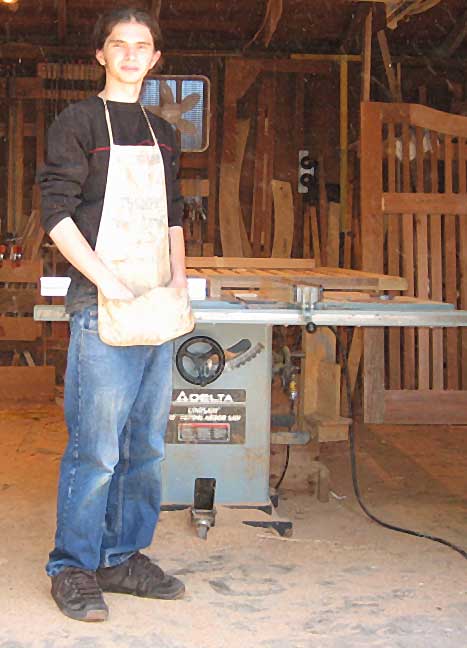 Sonoma County's Press Democrat
1992
Click here for the full pdf download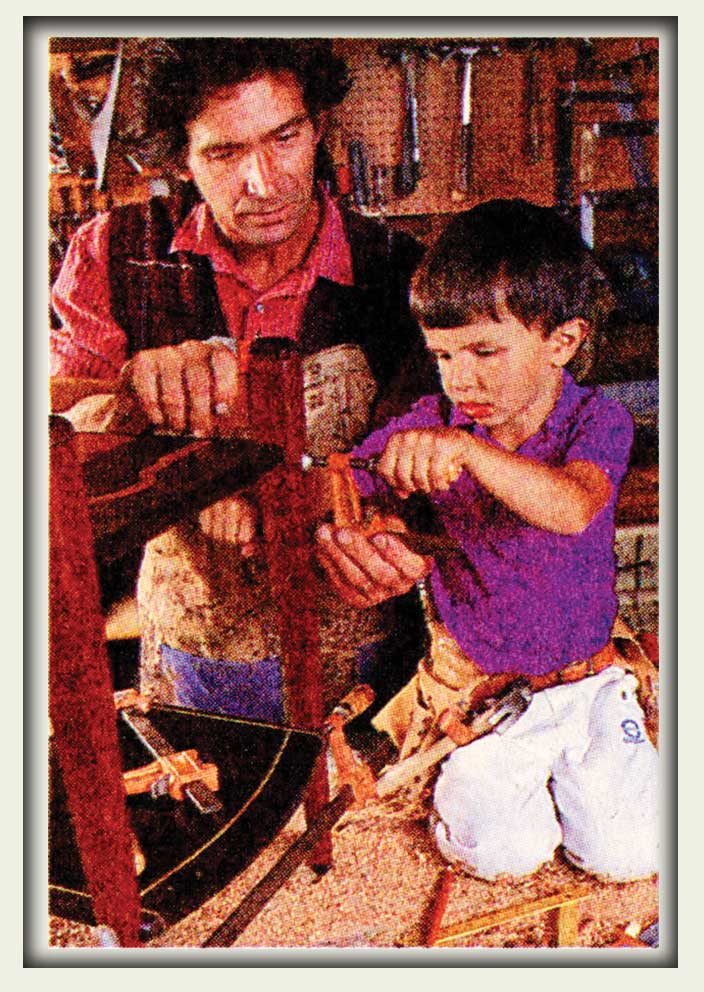 Woodwork Magazine
1993
Click here for the pdf download
Building something. Who knows what. But he has his own toolbox and his own leather apron and his own hammer. Building something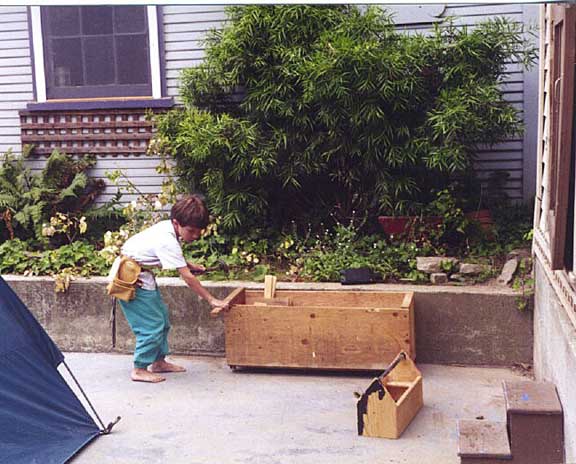 Watching and learning.
He would spend endless hours doing just this–watching it done once, and then seldom forgetting.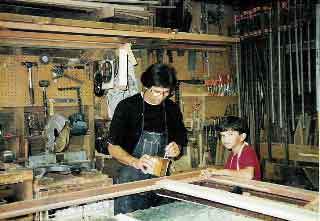 Tolstoy's Anne Karanina and Too Hot to Handle.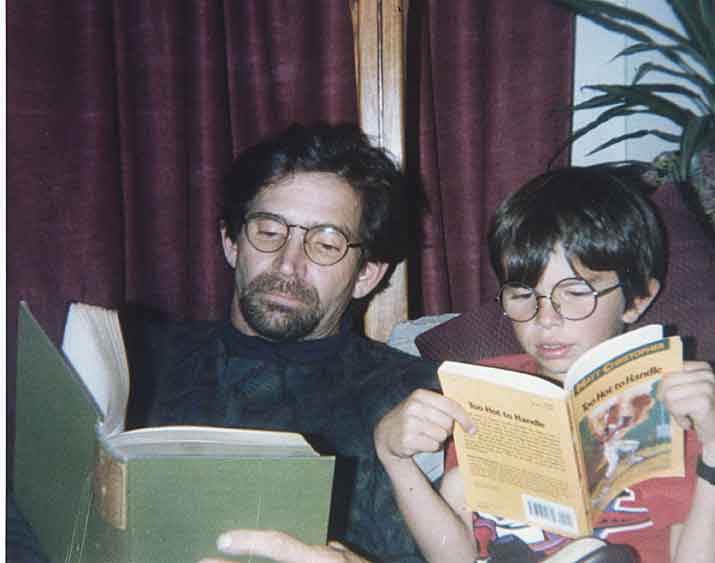 Blue ribbon winner at the Sonoma County Fair for his redwood table.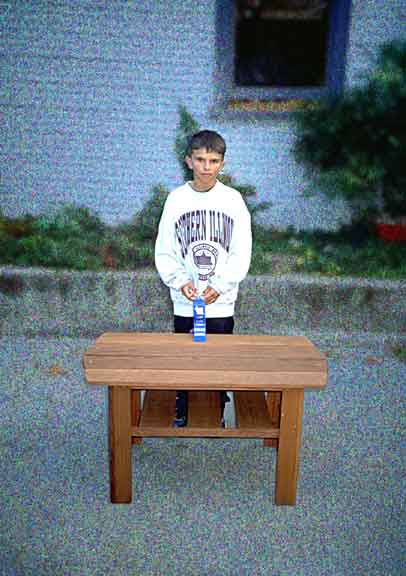 On-site installation for one of the original fence styles #1 in Ross, CA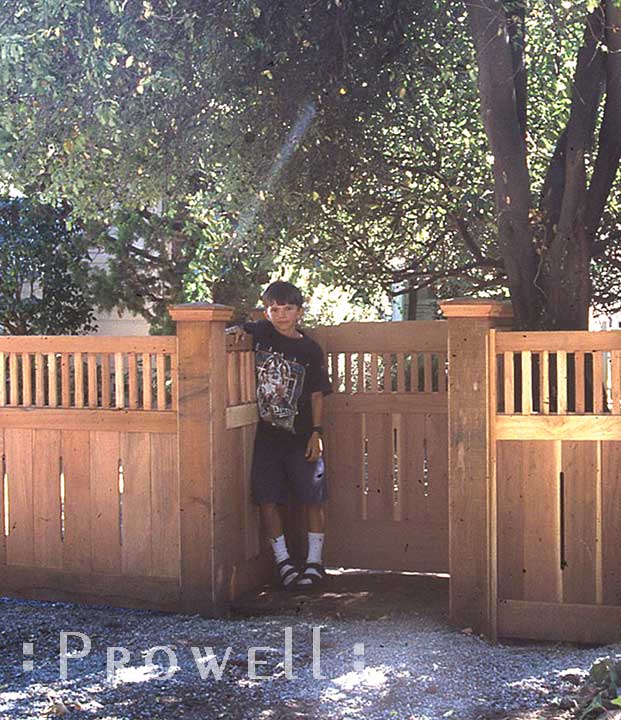 Three houses down the same street, setting the gate hinges.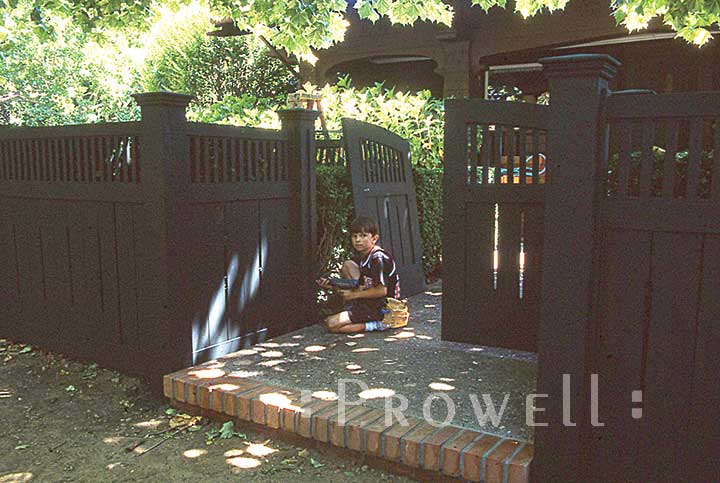 Twenty-plus years later, Faye Realynn Prowell gives us a pose at the same gate her father once hung in the above photo. And no, she not holding up the post.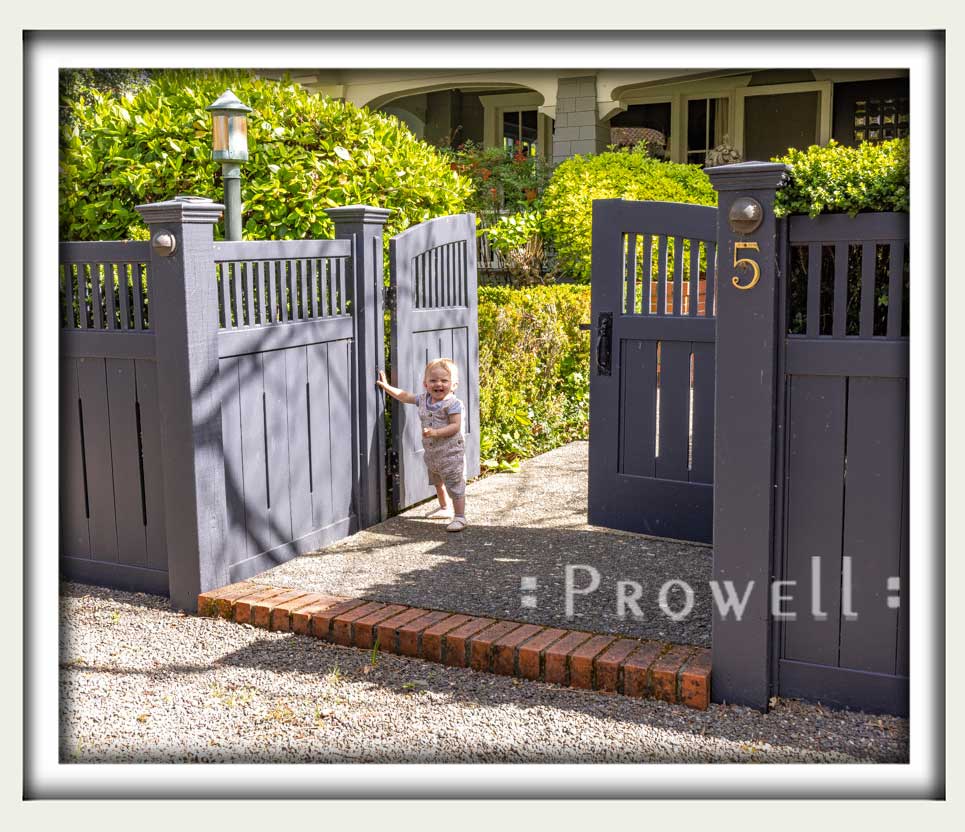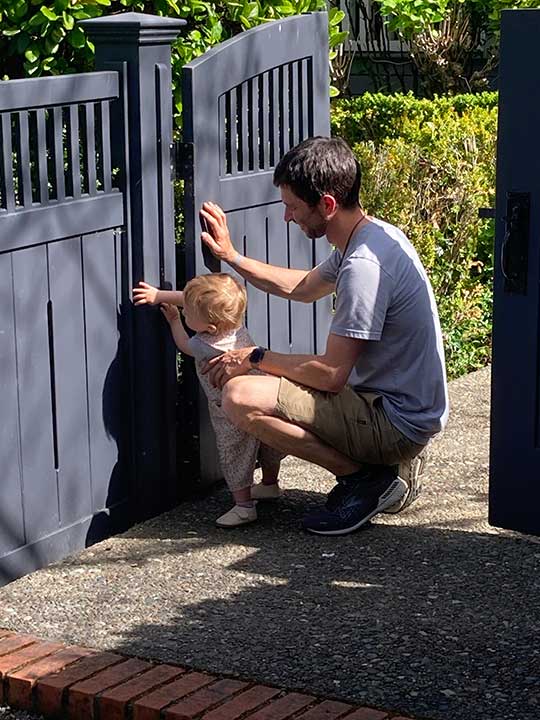 The generational continuum of one apprentice to another
(Ben Prowell and cousin Parker Prowell).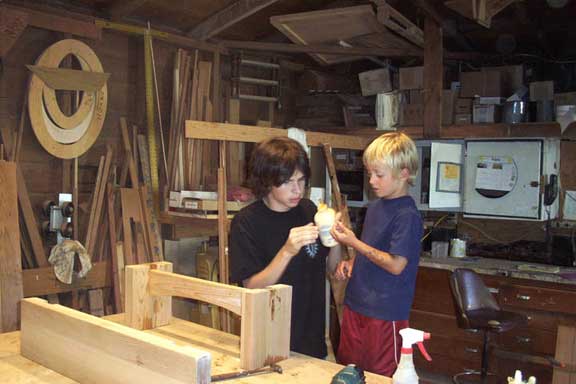 Parker Prowell, finishing his bench.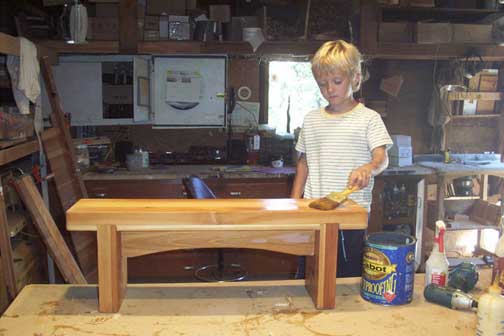 2005–Considering a procedure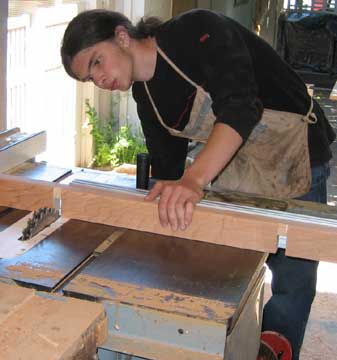 At work on gate Style #51 for an historic Georgetown site in Washington, DC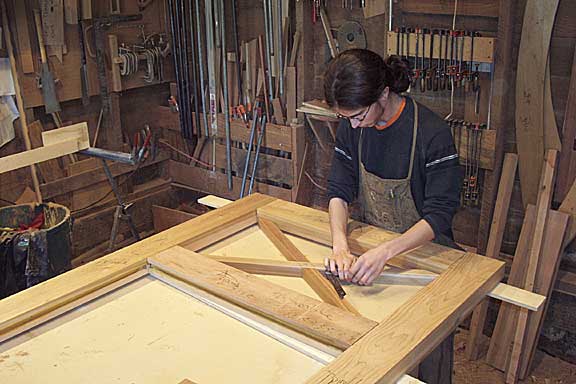 Ben and Parker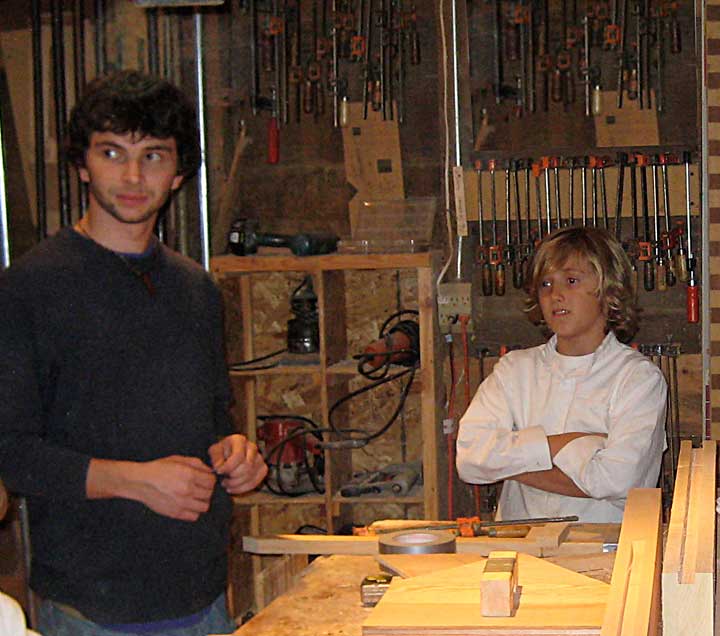 A marketer's dream: Five Prowells in the shop at once. Ben giving a few of his cousins a little time in the shop. Left to right: Jackson, Ben, Parker, Asa, and Soren.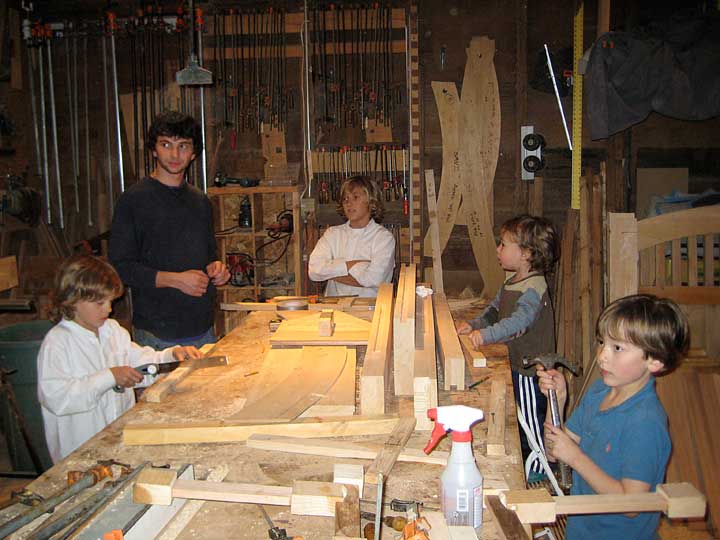 Coming up with a new Patio Table and Bench product
A typical Gate subjected to Quality Control Test #32—the Sonoma coast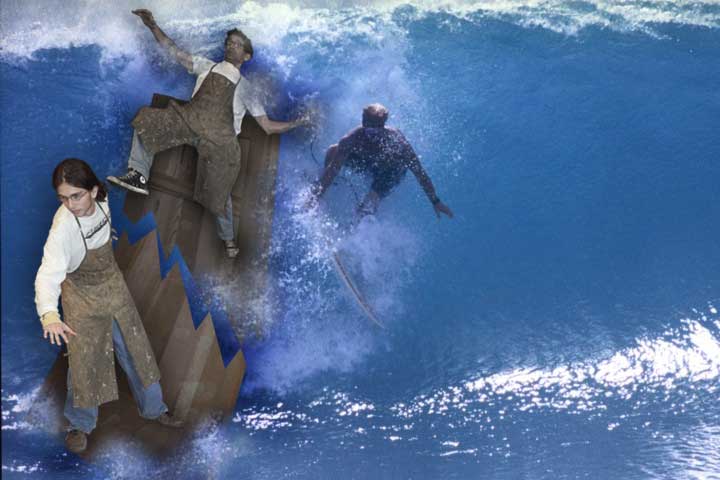 Geared up with his headphones for music and ear protection; his high tech battery operated dust filter; and the special woodworker's gloves.
The Jaguar's caliper-like hands at work.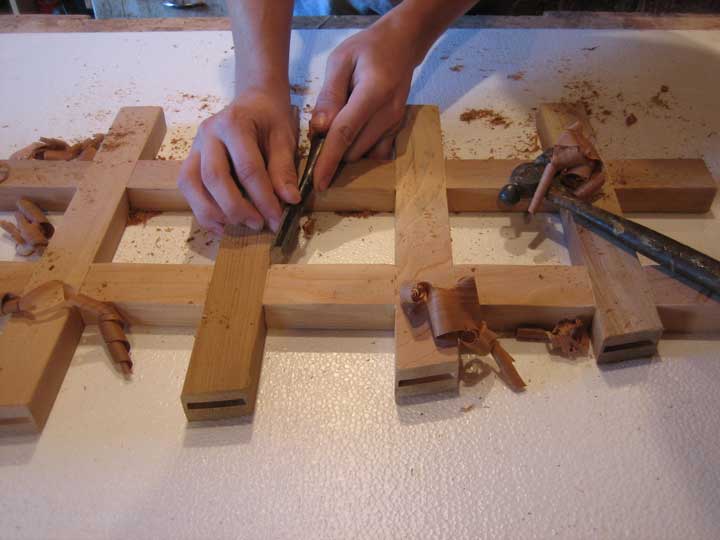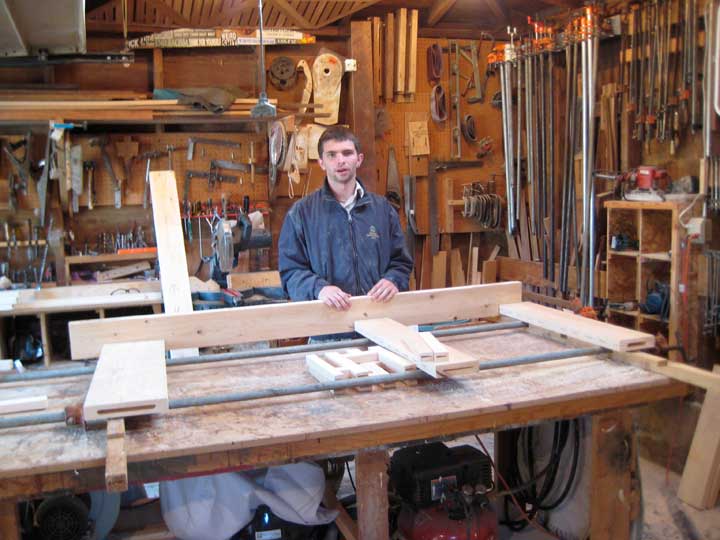 Showing an in-progress of Prowell's 2-teired Post Cap.
And the finished assembly.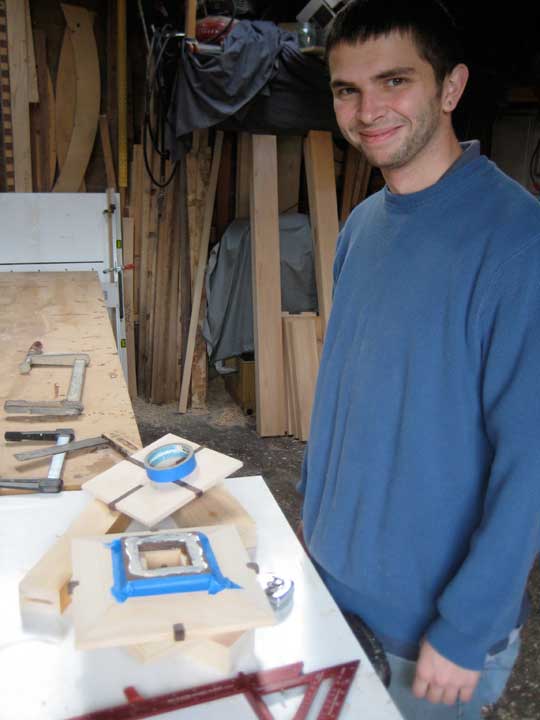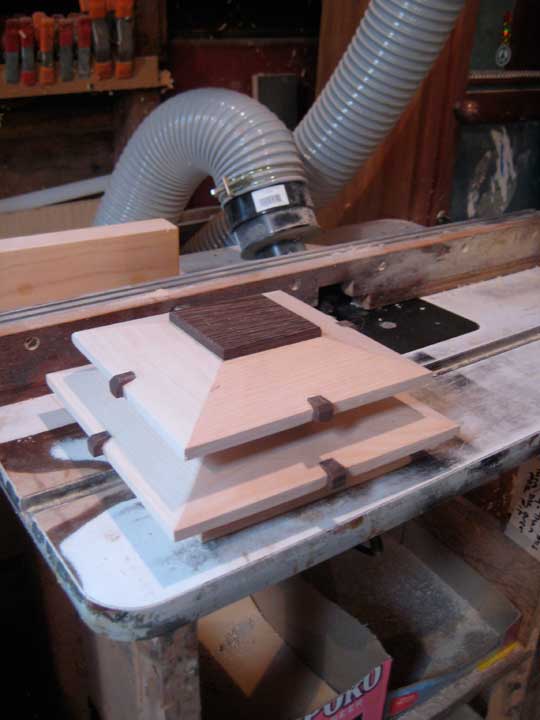 As a photographer and videographer, Ben began creating a series of artistic woodworking videos on YouTube a few years ago, Titled Romancing the Craft.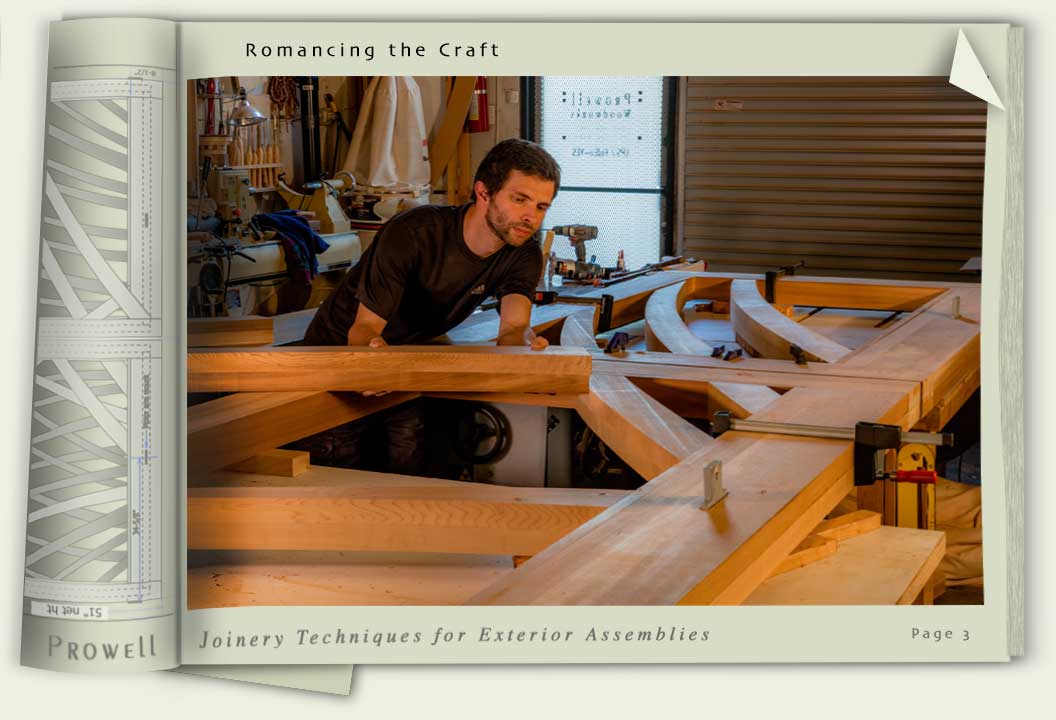 2010
NORTH BENNETT STREET SCHOOL of FURNITURE MAKING
Founded in the mid-1800's as a vocational institute for immigrants, the school remains in the same building in Boston's historic North End. Considered by many as the nation's most prestigious furniture-making guild, while also offering a curriculum in violin-making; and traditional timber carpentry.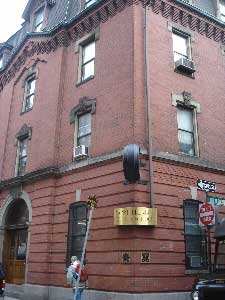 On the rooftop in Boston's North End. An area used, among other things, to expose clamped glue-ups to the sun and air.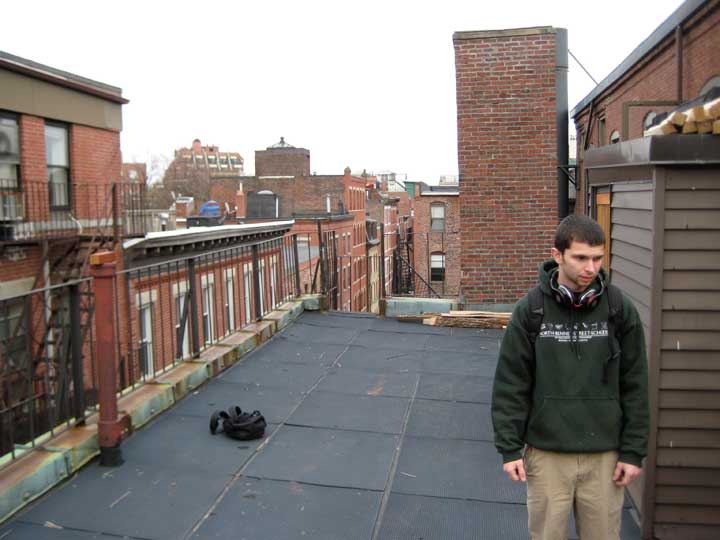 The first visit. The second visit lasted a week during late October of the same year and ended, not surprisingly, with the arrival of the first nor'easterly of the season. Charles instantly took flight to the temperate west coast.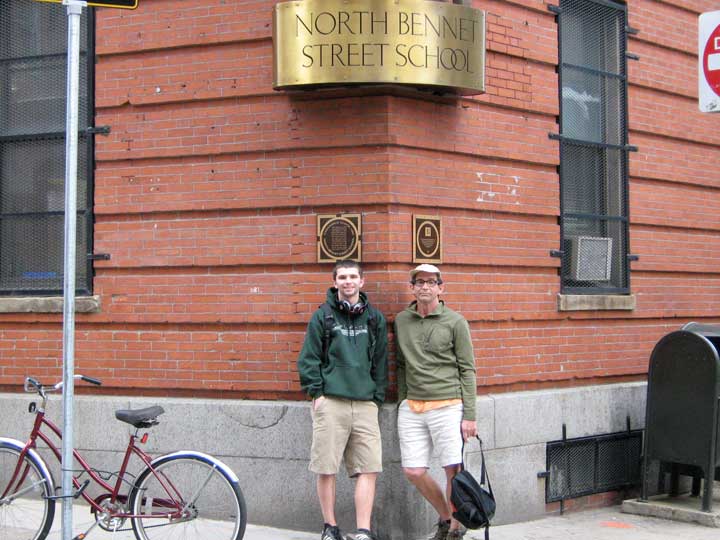 The third floor shop, reserved for second-year students.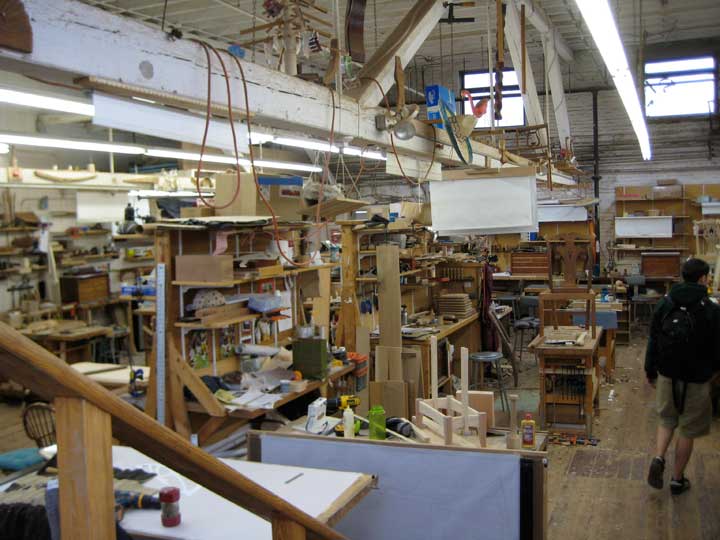 Below, two pieces created at North Bennett Street
The Demi Lune Table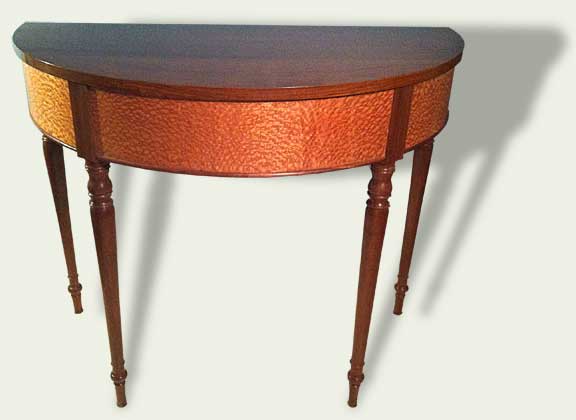 The Serpentine Table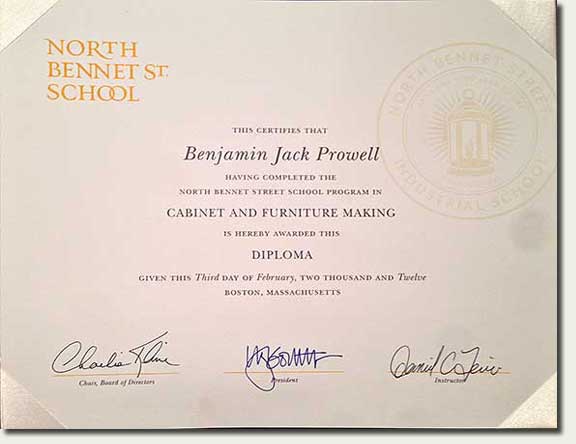 In June Ben returned to his beloved Boston to rekindle a few friendships and attend graduation.
The North Bennett Street graduation ceremonies were held at Boston's historic North Church, next door to the school and built in 1723– the oldest standing church in Boston. Known to most as where, in 1775, the church sexton climbed the steeple and held two lanterns as a signal from Paul Revere that the British had were marching to Lexington. Two lanterns, as by earlier arrangement, in the phrase you will all recognize: One if by land, Two if by Sea
Below, the graduates linger in the family pew boxes. Originally, families had to purchase the pew boxes on a grading scale, with those at the front and center aisle being the more expensive than those in the rear and upper galleries. As long as the dues were paid, the families had exclusive use of their boxes, and would decorate them with fine fabrics and furnishings as an indication of social status. Families arriving in the colonies late might also reserve a more expensive pew in the front, and when available, essentially move up in society. Hence, some of the more notable citizens, such as British General Cage, had to sit in the far rear pew.
Below, Ben peering up, among a few of the graduates gathered in typical pew boxes.
There are several craftsmanship schools within North Bennett Street. Here, Ben with those fellow graduates from the Fine Furniture-making curriculum.
But also present are those graduates representing: Violin-Making; Bookbinding, Jewelry-Making; Locksmithing; Preservation Carpentry; Piano Technology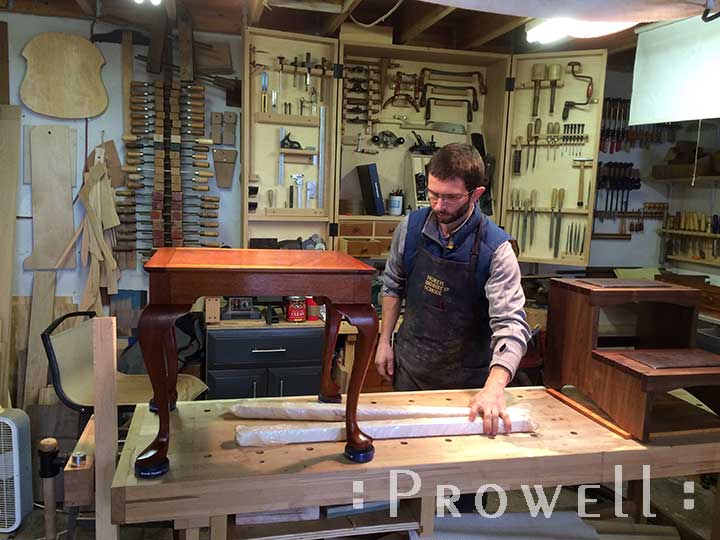 Click here for the full PDF article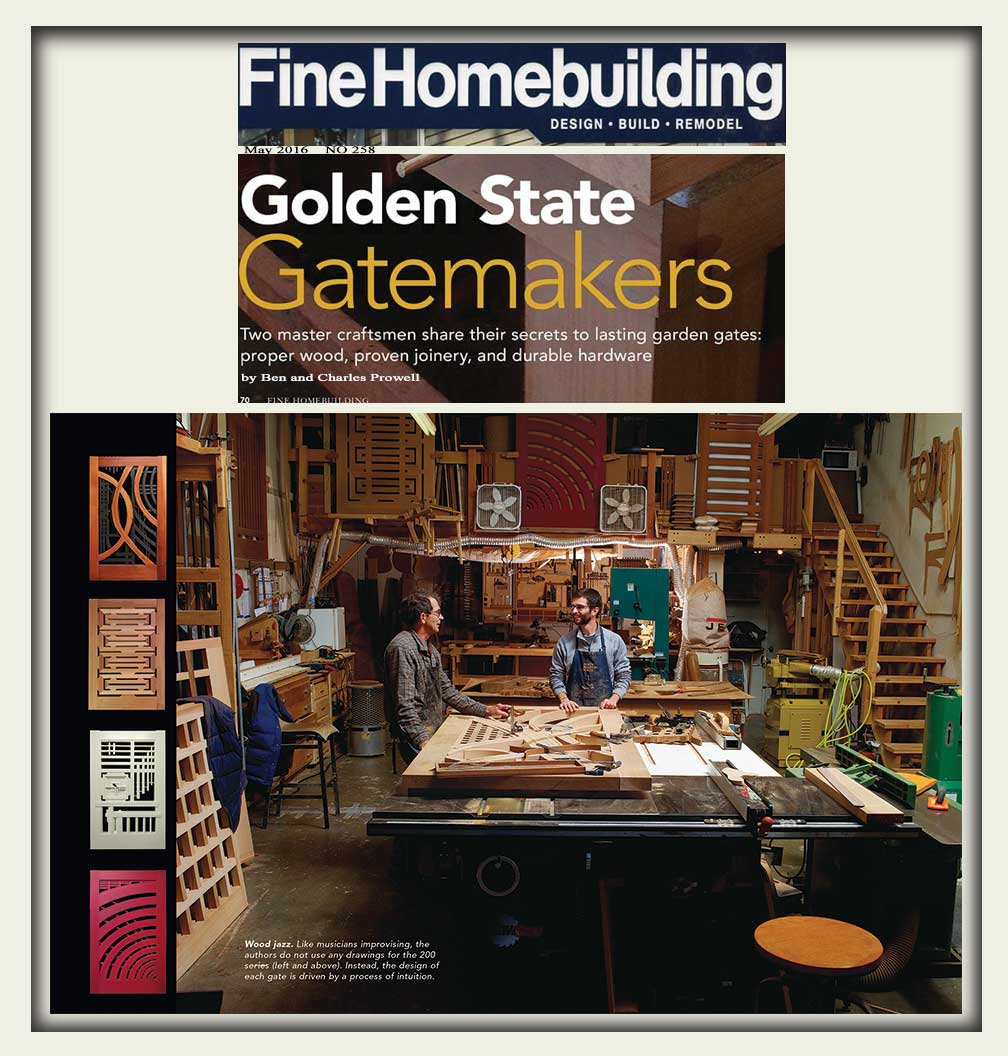 Fine Woodworking Tools and Shops
November 2019
Click here for the full pdf download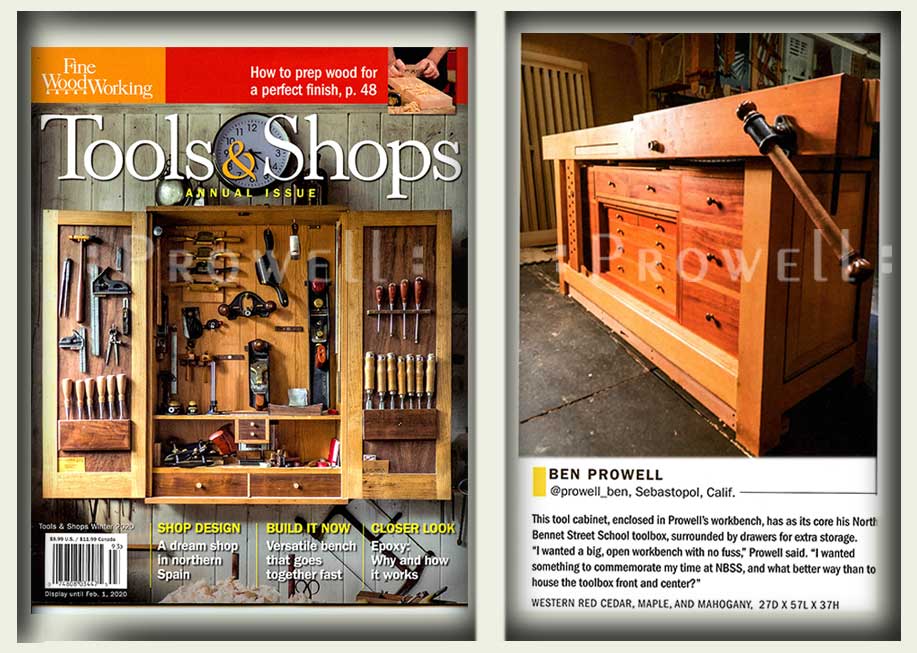 Landscape Architecture Magazine
2002
Click here for the pdf download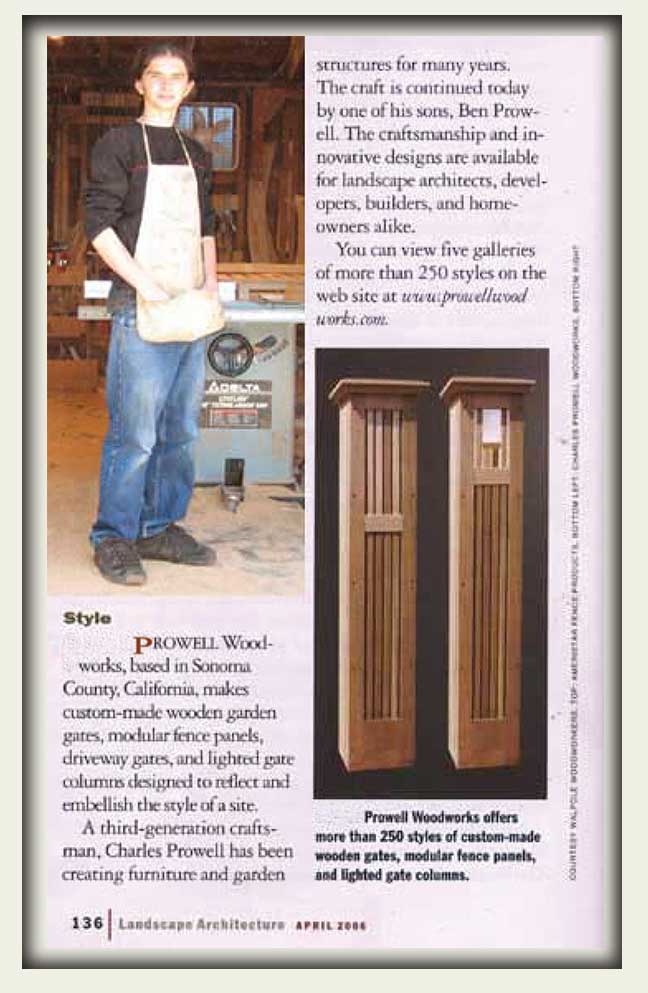 2021
The next generation, Faye Raelynn Prowell, getting comfortable with her father's chamfering plane.