CUSTOM WOOD DRIVEWAY GATES #11-1
Kentfield, CA
Horizontal wood driveway gates #11-1 is built on the bias to a sloping grade that drops 8″ over 18 feet.
Narrow picket spacing of only 3/4″
See more on Sloping Grades (Option B)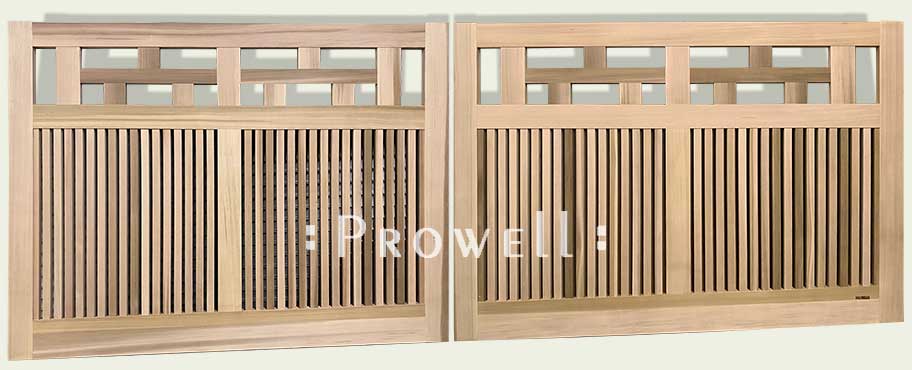 Kentfield, CA
The site features the contemporary wood drive gates, mounted to a steel frame and automated with LiftMaster armature motors. Option B in the sloping grade options sees just the bottom horizontal rail parallel to the grade, with each picket individually cut to a tapered length. More on Sloping Grade Options
Shown with the pedestrian entry gate on the left, modified from gate style #71. The fence panels are modified from fence style #38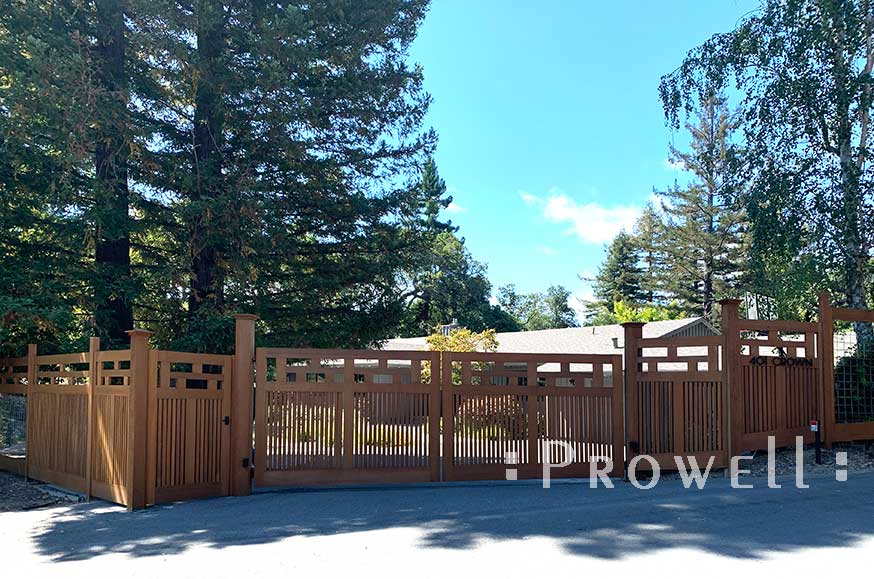 Kentfield, CA
The site features the contemporary wood drive gates, mounted to a steel frame and automated with LiftMaster armature motors. Option B in the sloping grade options sees just the bottom horizontal rail parallel to the grade, with each picket individually cut to a tapered length. More on Sloping Grade Options
Shown with the pedestrian entry gate on the left, modified from gate style #71. The fence panels are modified from fence style #38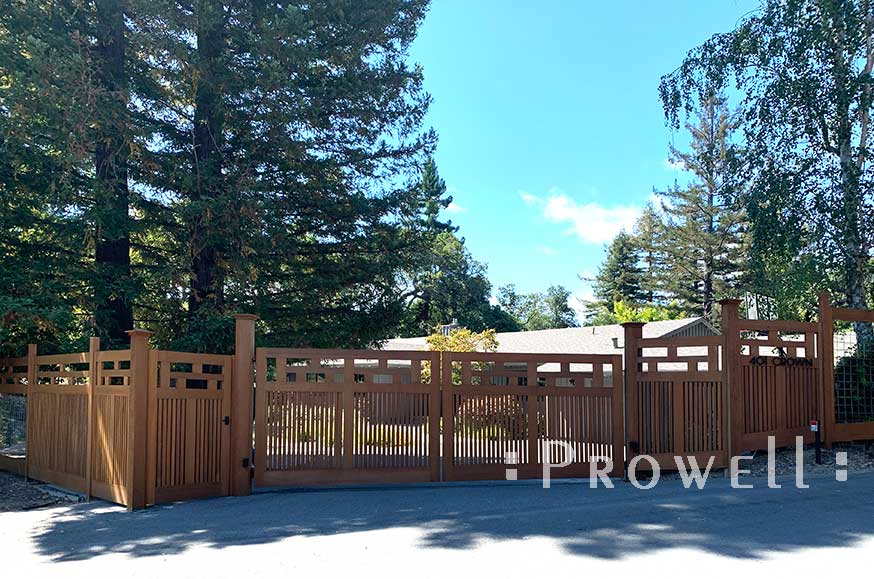 Kentfield, CA
T
he left leaf of our modern wood driveway gates #11 -1 with the entry pedestrian gate.
To mitigate the glare of traffic headlights, the lower pickets of the contemporary drive gates #11-1 are set at only 3/4″ spacing. If you stand 5º to the left or right, at a minimum of 10′ distance, there is no visibility between the pickets. A solution we've employed on fence panels and garden gates to the same effect.
Prowell's Post Caps style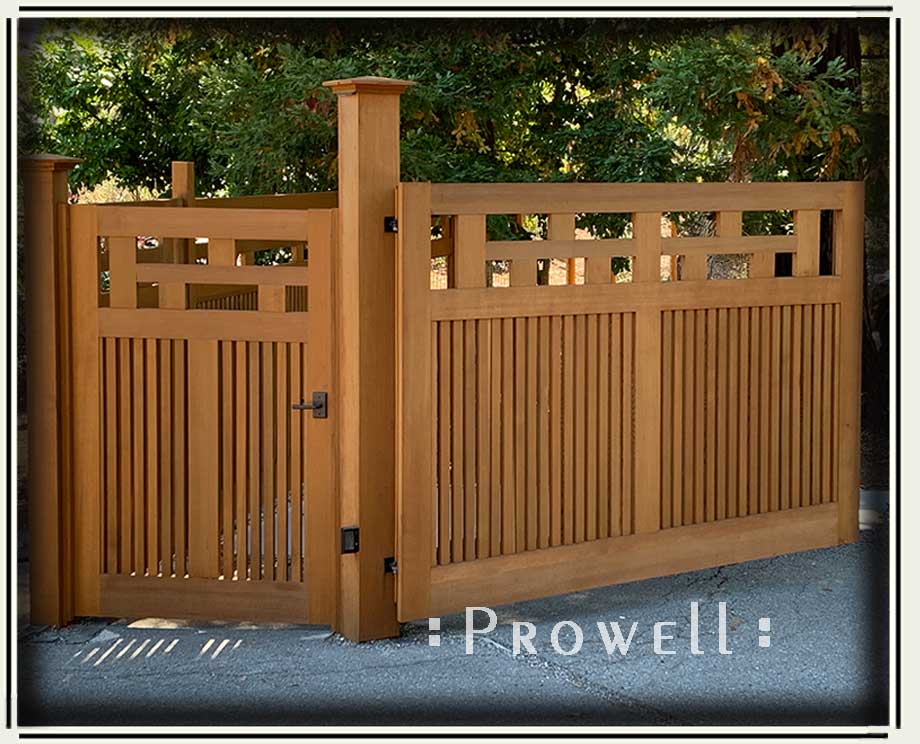 Because there will be few of you with the sloping grades that require the above solution of a gate built on the bias, we have rendered #11-1 to illustrate the normal aesthetic .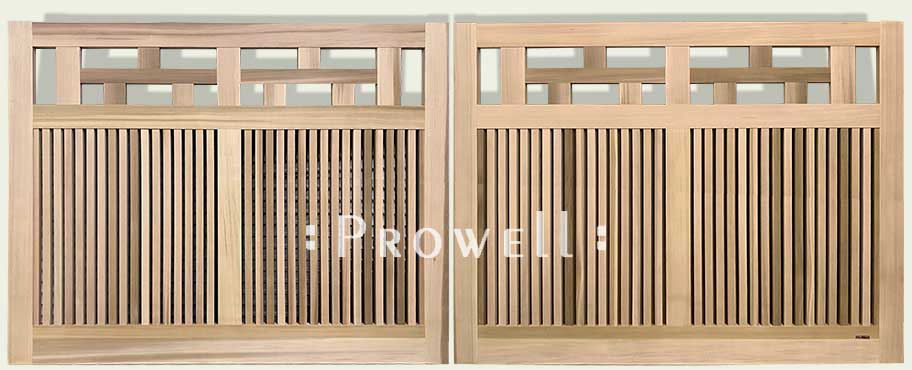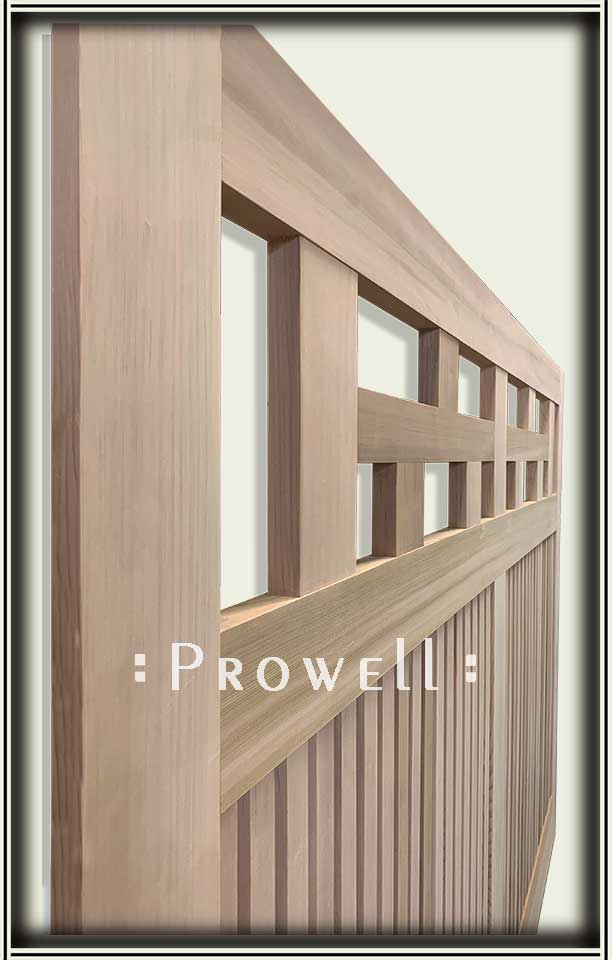 CUSTOM WOOD DRIVEWAY GATES  #11
San Anselmo, CA
The original horizontal drIveway gates #11 shown with flanking Wood Fence Panels #38–designed specifically for this gate style.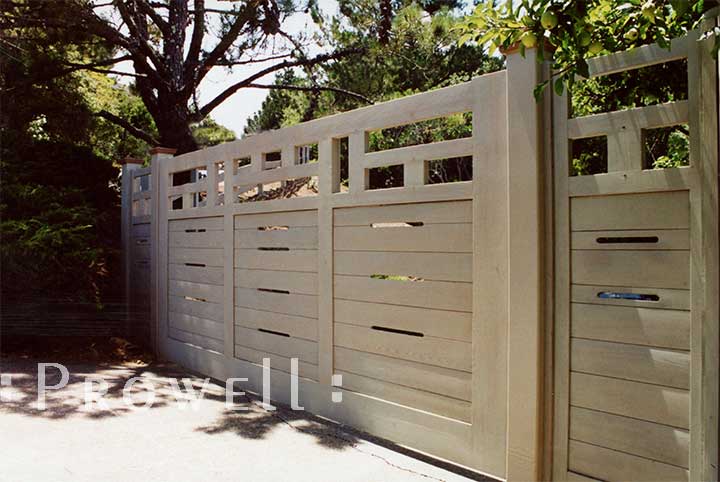 Oakland, CA
A frontage wood fence style #9 running about 100′ along the walkway, punctuated by both the horizontal driveway gates and pedestrian gate #71.
* Set the two end posts and string a line where the top of the panels intersect those posts and as you work your way up the slope, the top of each panel is set to where the string-line intersects the post on the low end. This insures the steps are equal.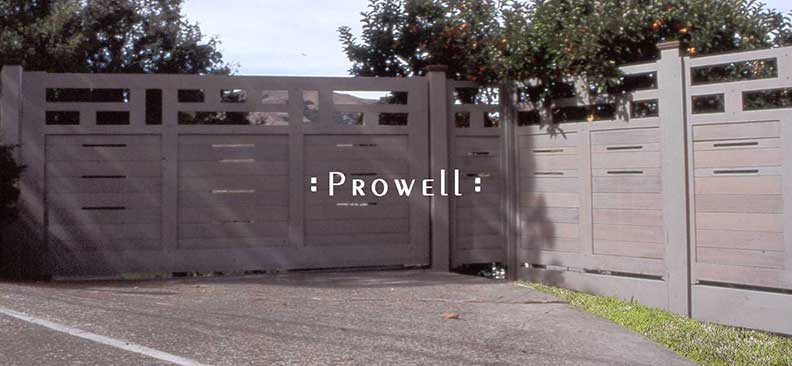 Building the  WOOD DRIVEWAY GATES #11-1–PROGRESS
Building a wood driveway gate on the bias requires dry-fitting the layout so each picket can be scribed to a distinct length and cut on the angle determined by the math (With the length of the run, and the distance the grade slopes down or up, you can use the trigonometric function of Tan to determine the length of the hypotenuse, as well as the crucial angle to which the rails and pickets are cut in the shop. The more crucial specifications for the contemporary drive gates #11-1 were the site measurements that actually determined the rise, or slope of the grade.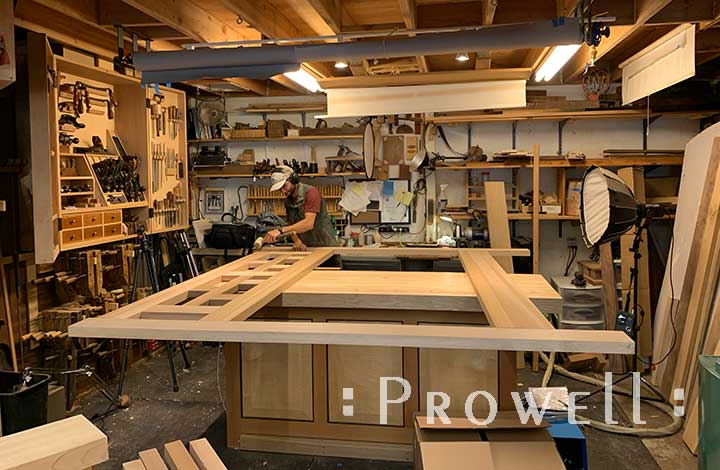 WOOD DRIVEWAY GATES #11-1–PROGRESS
The horizontal wood driveway gates are assembled in stages. Below the upper pattern is finished, leaving just the pre-cut multiple lower pickets to assembled . . . before the glue dries. There is no shortcut or production methodologies involved; the lower pickets are set to their tenons and glued and clamped, all before the glue dries.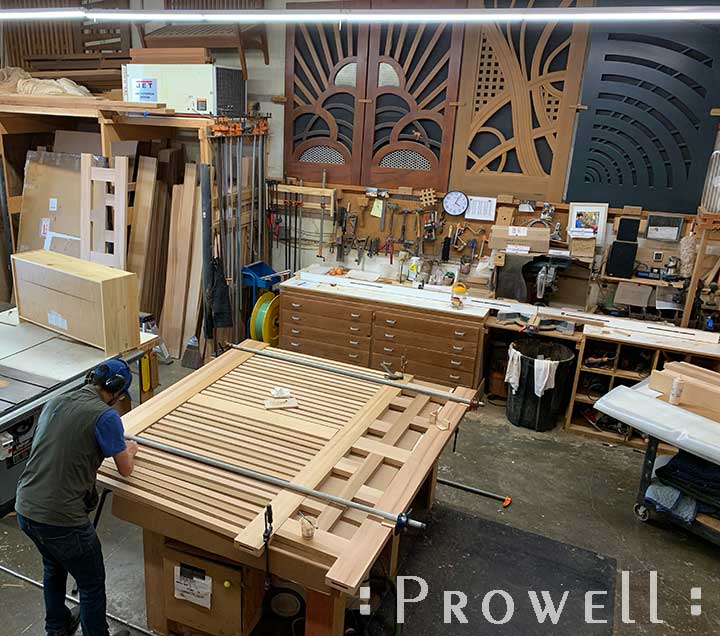 WOOD DRIVE GATES #11-1–PROGRESS
And once the lower pickets are set and the clamps in loosely set, Ben fine-tunes their placement to insure each picket aligns to its layout marks. At only 3/4″ spacing, any skewed picket will be readily apparent to the layman's eye.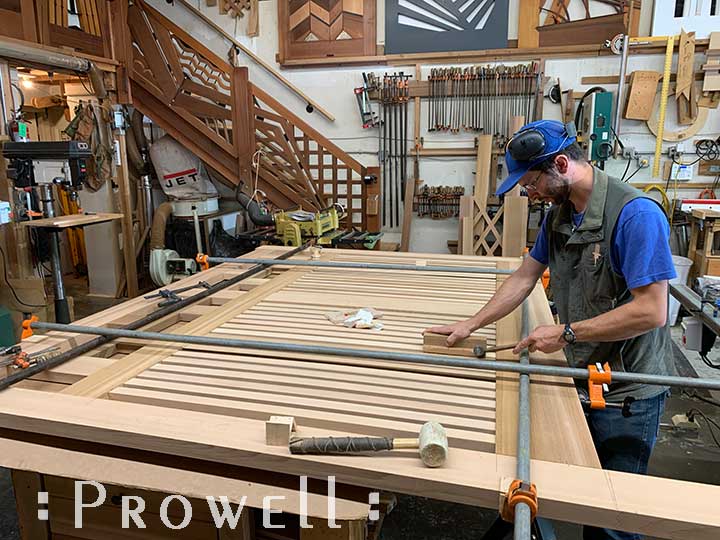 # 0110-Culhane
#11—-0240-Petrinelli
#11-1–2024-Davenport