CUSTOM WOOD DRIVEWAY GATE #15-1
Berkeley, CA
Wood Driveway Gate #15-1. Shown as 12′ overall opening width x 58″ net height.
Note: Prowell prefers the width of a gate not exceed its height.
Upper grids framed.

CUSTOM WOOD DRIVEWAY GATES #15-1
The left side of our Wood Driveway Gate #15-1. One of the very few models on this web site where the upper pattern is framed as an insert.
CUSTOM WOOD DRIVEWAY GATES #15-1
Berkeley hills
Although the Wood Driveway Gate #15 wasn't originally designed with Spanish Colonial architecture in mind, it appears here to pick up on the grid mullions of the windows.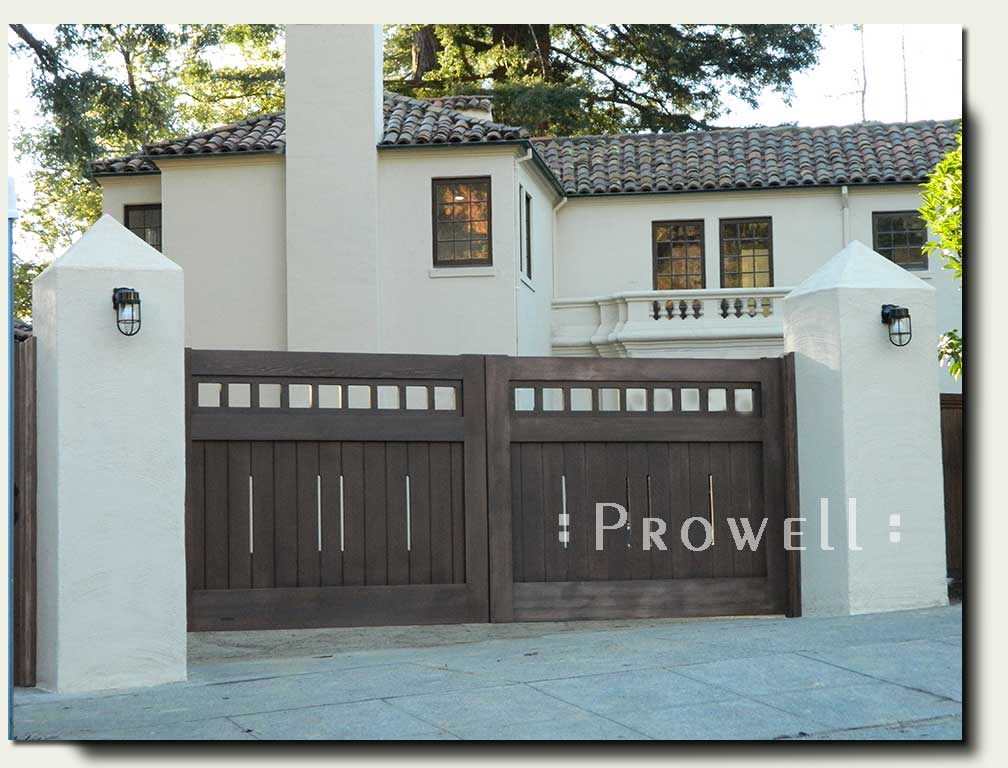 CUSTOM WOOD DRIVEWAY GATE #15-2
Santa Rosa, CA
Driveway Gate #15-2 accompanied by a matching pedestrian gate.
Drive gate rough opening of 11′ x 60″ ht from grade.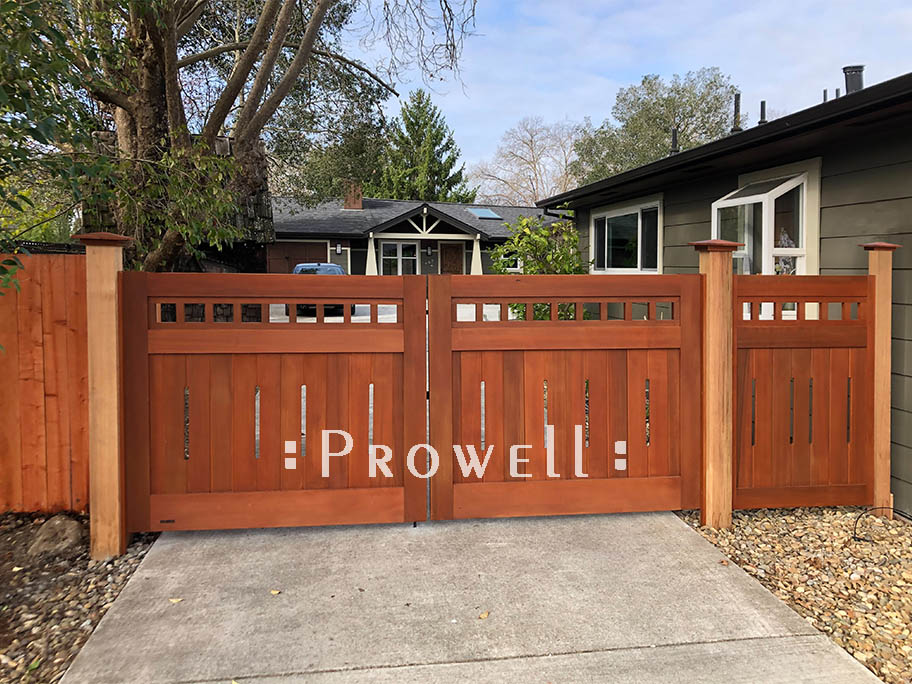 CUSTOM WOOD DRIVEWAY GATE #15
San Francisco, CA
The original Driveway Gate #15 was designed for a 97″ rough opening in San Francisco. With a gate thickness of 2-1/4″, the clearance when the gates are open is approximately 92-1/2″.
It is also of interest that all communities have a minimum opening required to allow fire truck access. If the residence is usually within 100 yards of the gates, then this requirement is waved simply because the firemen can access the structure with the length of their hoses and the truck itself does not need to enter the property. And yet in cities such as San Francisco, where the gates are always adjacent to the house, the minimum opening code does not exist.
What does exist in San Francisco and 90% of all city codes across the country is that the driveway gates be set back from the easement sidewalk by 10′-12′ feet. This is for two good reasons:
1) To avoid your approach and pausing in the street while your gates are activated by remote, thus blocking normal traffic.
2) To avoid a neighborhood fronted by driveway gates along the sidewalks to create a community of fortress-like residences.
* In many communities, such as tourist-driven Carmel or Martha's Vineyard where curb appeal is linked to the local economy, there are also restrictions of the percentage of open space to solid wood.
CUSTOM WOOD DRIVEWAY GATES #15-1
San Francisco
Photographed six months later– Driveway Gate #15 is aging to an unfinished weathered aesthetic.
The Jordan Park neighborhood of San Francisco.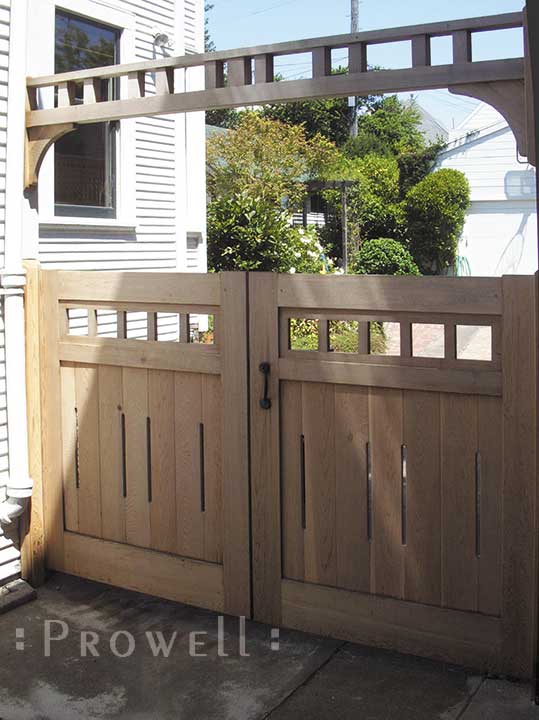 WOOD DRIVEWAY GATES #15–PROGRESS
The joinery. 'thru-tenons' set 3″ into the rails and extending through the stiles to be wedged tight by tapered bubinga wedges. Once exposed to the humidity, dew, and general moisture of the elements, the joint expands, becoming even tighter. This is Prowell's Joint #9.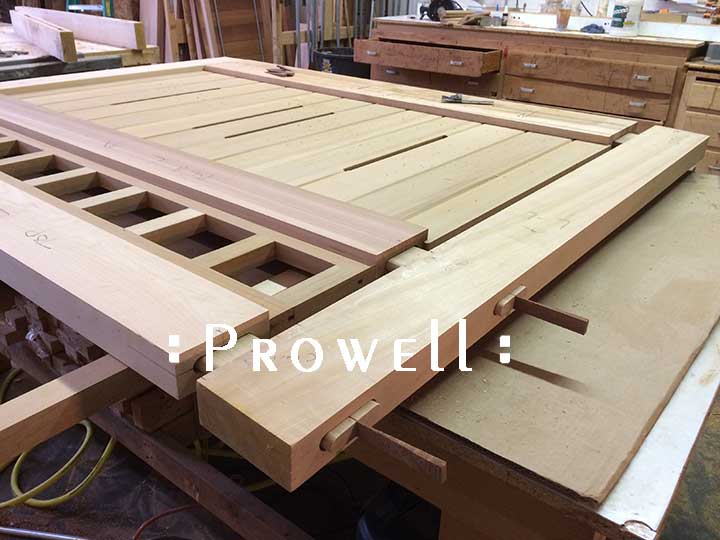 DRIVEWAY GATES #15–PROGRESS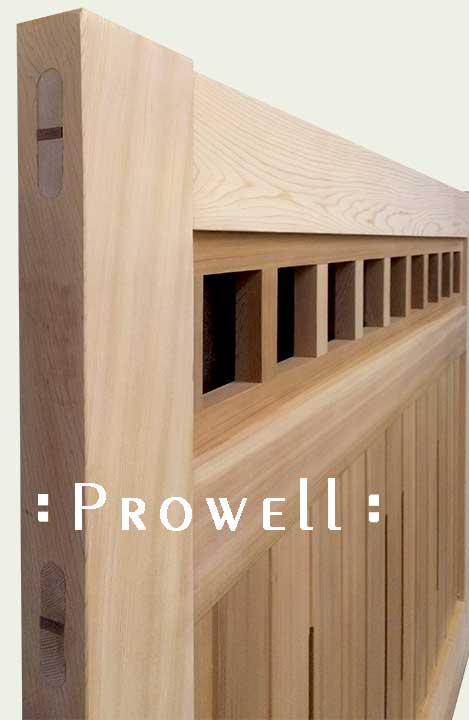 #15—–0129-Ach
#15-1–1638-Fernald
#15-2–2103-Nygard