CUSTOM WOOD DRIVEWAY GATES #3
Driveway Gate #3 features open grids of 4″-5″ sqaure
Left Leaf of wood driveway gate #3. Grids at equal layout horizontally and vertically, as 4-7/8″ squares.
CUSTOM WOOD DRIVEWAY GATE #3
Mill Valley, CA (Marin County)
Viewing the automated driveway gate from the front of the residence, facing the Bay and San Francisco to the south, This is the good news. The bad news is the accumulated hours over the course of a year spent maneuvering the long, winding road down the hill to join the rest of the known world where quarts of milk are available at all hours of the day and night.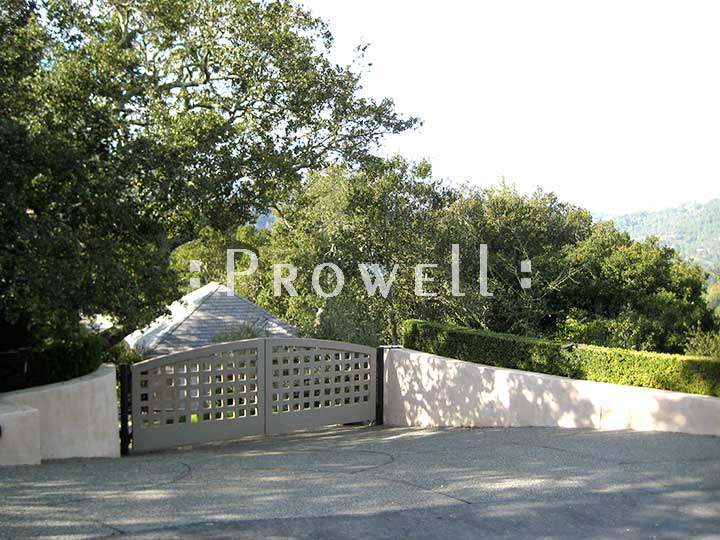 CUSTOM WOOD DRIVEWAY GATE #3
Mill Valley, CA (Marin County)
The view from the property side, showing the motors and the motor arms plate-mounting to the grid dividers. Not a good idea. The reinforced and embedded steel frame is situated within the gate frame, and not the grid-work. Much better to mount the motor arms to the gate's framework, where we provide a metal plate just for this purpose.
CUSTOM WOOD DRIVEWAY GATES #3
Mill Valley, CA (Marin County)
And a close-up. The existing stucco pillars were structurally insufficient to bear the weight of the wood driveway gate. Given the choice of rebuilding the existing stucco columns with a steel core, or simply adding new 3″ x 3″ steel posts, as shown, and the homeowner decided to add the new posts.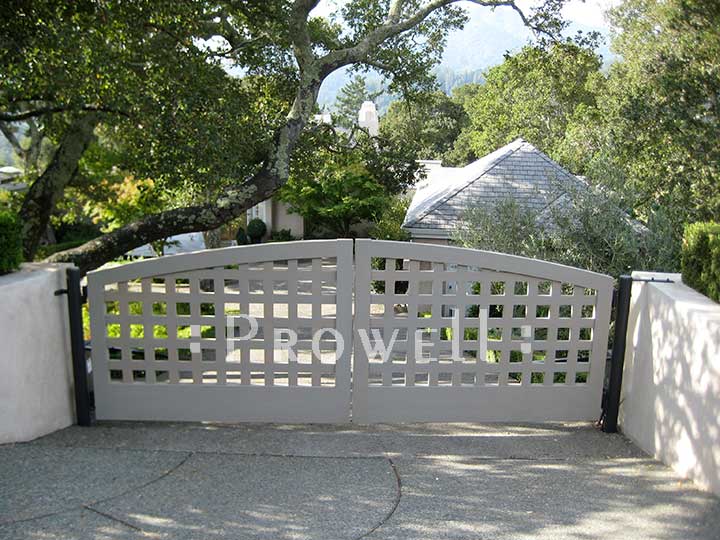 Regarding AUTOMATED GATES 
Mill Valley, CA
Every automation contractor has a preference for hinge styles. Prowell provides the gates only. As we prepare your drawings, your automator will provide us with their preferred hinge clearance. We will provide any needed mounting plates, such as the plate seen here against the gate, as well as the mounting plates for the motor arms.