The Wooden driveway entrance gates #5 features equal grids of approximately 7″-8″ square.

Ross, CA
The original wood driveway gate design #5 in Marin County, California. Why does Charles love this house? For someone who has spent a lifetime wandering through the most grandiose landscapes and residences in America, this home satisfies a primal contingent: It is simply inviting. You want to know those who lives here. You want them as friends. If for no other reason than you might be invited over to sit beneath the sycamore with a glass of ice tea and an afternoon of small talk. A house to grow old in.
Ross, CA
The matching entry pedestrian gate.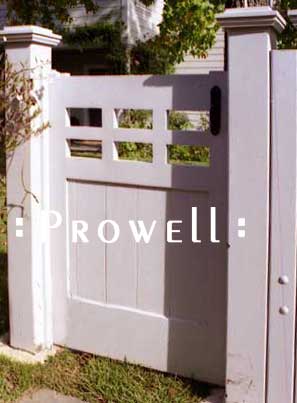 AMERICAN BUNGALOW MAGAZINE
American Bungalow Magazine 2000
Click Here to view the PDF featuring Driveway Gate design #5
Click Here to view the gallery of Articles and Features

To maintain the equal grid sizes both vertically and horizontally, and yet also maintain a fixed height, we have added a little to the width of both the top and bottom rails.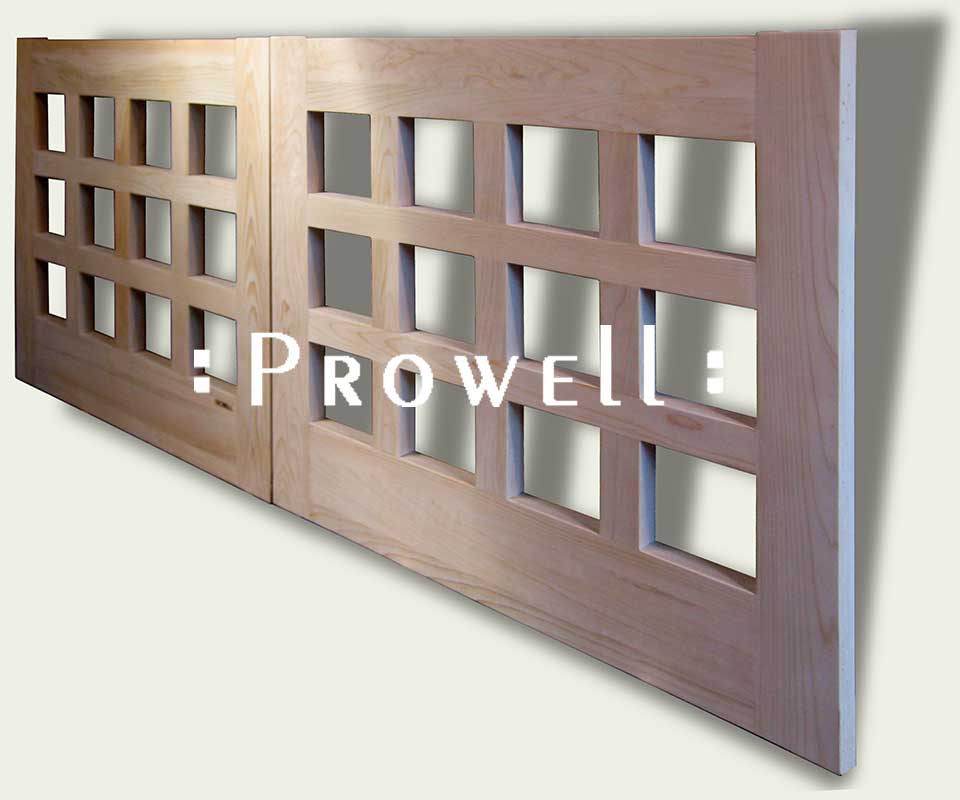 Piedmont, CA
A carefully restored early 20th century bungalow in the San Francisco East Bay Hills, featuring the open, understated driveway gate design #5-1.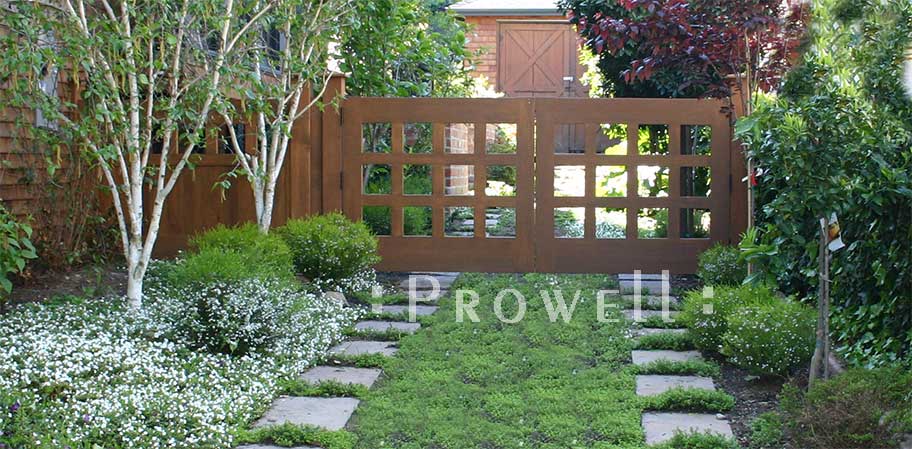 Piedmont, CA
Cedar driveway gates #5-1, showing the setback from the sidewalk. Most codes requires a minimum of 12′ setbacks for driveway gates. This is to insure you're not blocking traffic, idling in the street while your gates automatically open. At 12′, even out-swing gates do not impede on the sidewalk easement.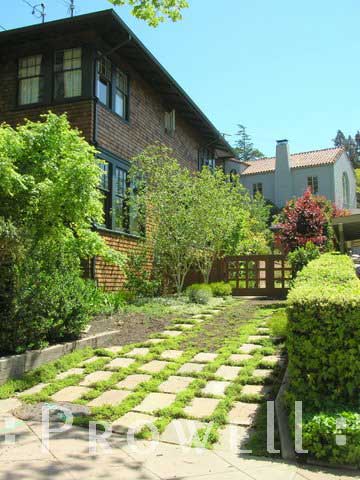 Piedmont, CA
Prowell on a rare site visit, discussing the above project with the highly regarded Brian Van Rheenan of Provident Construction. The most knowledgeable and conscientious contractor the Prowells have ever worked with, representing approximately 80% of all Bay Area installations since 2004.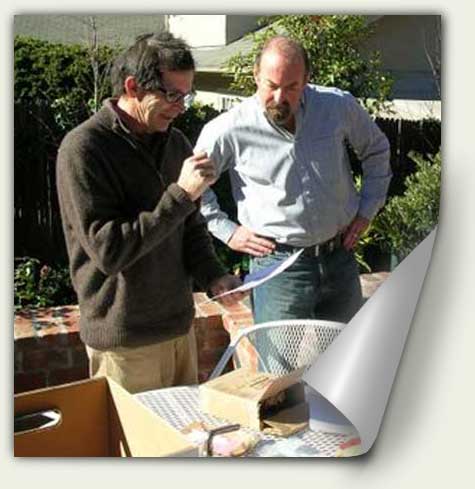 Lead by the math toward an allowance of equal grids vertically and horizontally,, we are left with a bottom rail that is 13-5/8″ width.
Our net width per gate is 49-1/2″. Less the combined width of the two stiles and we have 39″ to work with. Less the 3 vertical dividers and we're down to 31-1/8″ divided by 4 grids equals 7.781″ per grid. This gives us equal grids across, and if we want to establish the grids as squares –which defines the #5 Drive Gate– we're relegated to that dimension vertically as well. At 46-1/2″ net ht, the only solution available is the bottom rail at 13-5/8″.
Or, as is often the case, to leave a remainder row of grids along the bottom.
WOODEN DRIVEWAY GATES #5-2
Piedmont, CA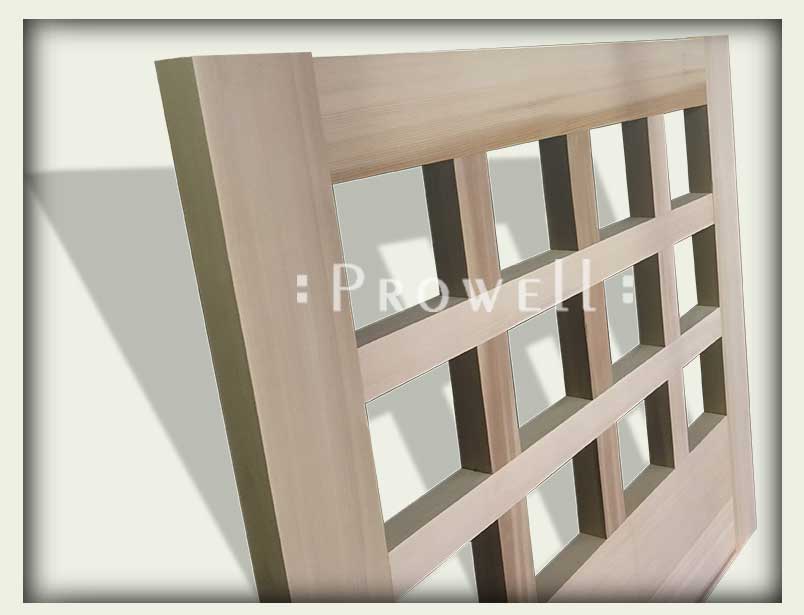 WOODEN DRIVEWAY GATES #5-2
Piedmont, CA (East Bay Hills)
A fairly narrow opening of only 10-ft by 48″ ht. We must assume the wooden entrance gates will eventually match the finish of the house trim.
*It should also be noted that we prefer not to have the height of a gate exceed its width.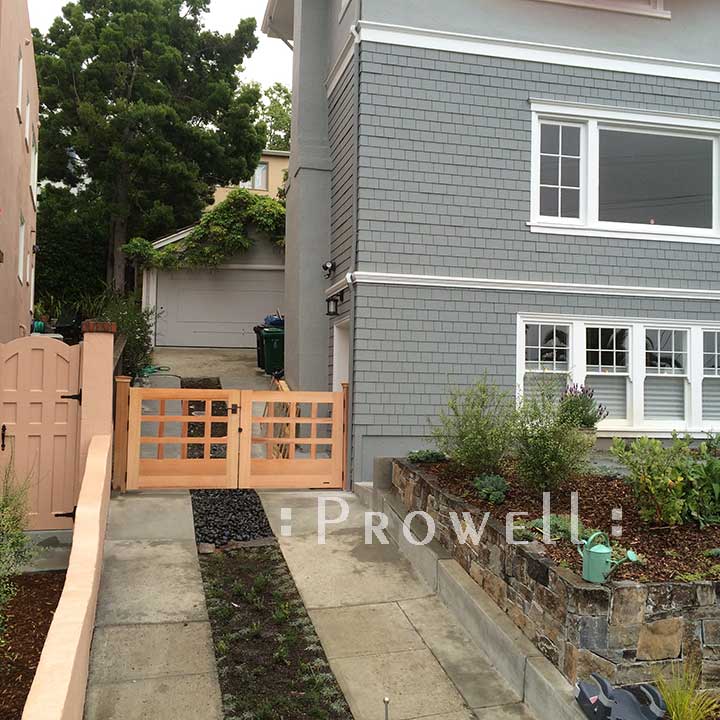 WOOD DRIVEWAY  GATES #5-2
Piedmont, CA (East Bay Hills)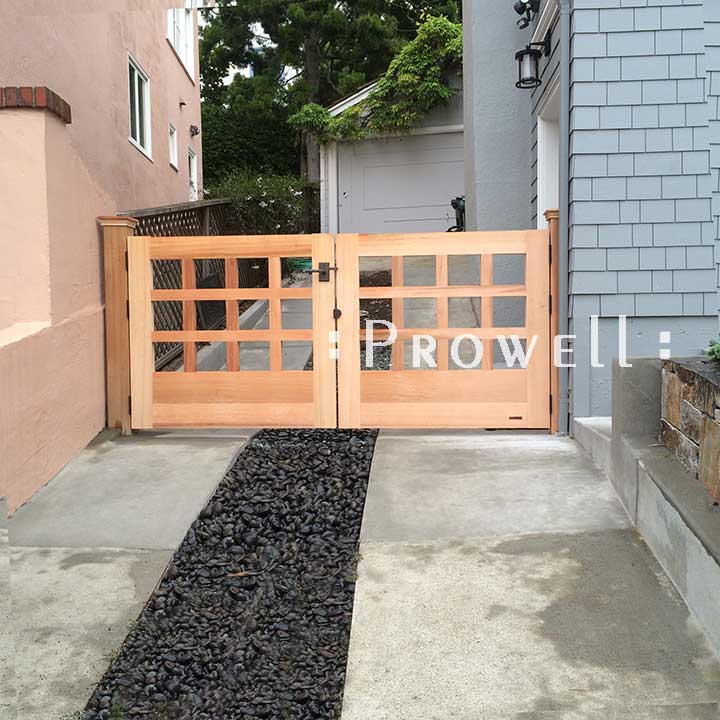 Building the double drive gates #5
A section of grid with it's tenons.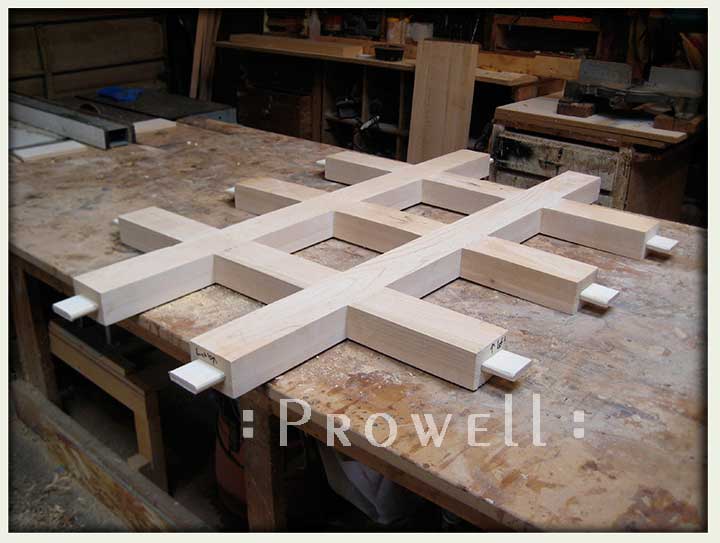 #5-1—0845-King
#5—0009-Hobart
#5-2—1611-Gallagher