Kent Woodlands, CA
With the traditional drive gate design of #9, in Marin County, California, we first introduced the Colonial-Williamsburg Weave pattern in 2000 for this 1918 residence on seven landscaped acres where we were inspired to mimic the original Colonial Weave porch railings.
We also illustrate one option for managing a soft slope of the grade for driveway entry gates. Each picket, from right to left, grows increasingly longer, with the bottom horizontal gate rail parallel to the sloping grade. This is Option B under Sloping Grade guideline. An additional 7%.
For more on Sloping Grades, Click Here
The grade drops approximately 7″ left-to-right.
Photographed 14 years after the original installation
Shown with Fence Style #23
Kent Woodlands, CA
The Colonial Williamsburg Weave was among the original 20 gate designs mandated by Thomas Jefferson for the University of Virginia campus in Charlottesville, VA. Here we see the Colonial-Williamsburgh Weave.
To see these Jefferson gates, click here.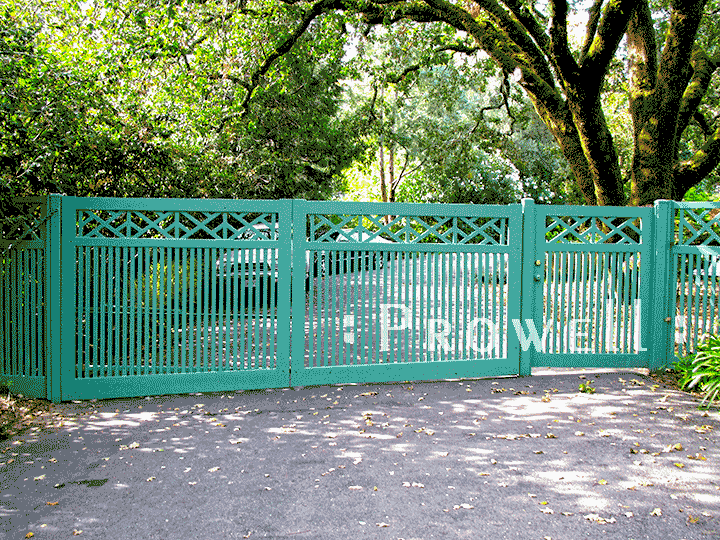 Kent Woodlands, CA
The upper section of the wooden entry gates provides an opportunity to design toward the precedent of any existing architectural details. Here we pick up on the pattern of the house porch and veranda railings, which unfortunately is not visible from the driveway.