Knowing in advance his weakness for social manners, we have gone to polite extremes in securing the presence of Mr. Adlai Means, who knows someone who claims to know someone else, who definitely knows either Ben or Charles Prowell. Mr. Means, hertofore, addresses your more frequent concerns with the aplomb of an upstart savant.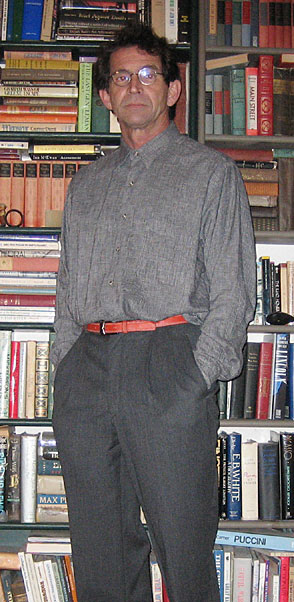 Do you provide pre-finishes?
K2JWD6
2021-07-17T21:33:32+00:00
As of 2010, we have returned to offering a range of penetrating finishes with the development of a non-solvent product from Inseco. Following several years of our own field tests in every climate, this product alone meets our requirements for a finish option that surpasses all other exterior finishes on the market. Professionally sprayed and back-brushed by our talented and knowledgeable Jorge Palacido and his crew. These options can be reviewed on the Pre-Finish Options page.
The cedar is born with a genetic code over a millennium of cedar raised in a certain temperate climate of the Pacific Northwest. It is logged and milled within the same climatic region and shipped to the similar climate of Prowell shop in northern California, where it remains housed under a roof as inventory. Eventually it leaves the shop and is delivered or shipped to be installed and exposed to the full exposure of a regional climate that is often vastly different from what the cedar has always known in the Pacific Northwest. Consequently, during the first few weeks of this acclimation, the cedar breaths at a greater degree than before or after this initial exposure. As it expands and contracts, absorbing stains go along for the ride without consequence. Paints and any finishes that are not absorbing finishes tend to be less willing to stretch with the same pliability as the cedar and often, in a percentage of cases, will crack or bubble in protest.
The cedar will breath less so following this period of acclimation that lasts anywhere from 10 days in temperate climates to 6 weeks in areas such as the Southeastern part of the states, where the humidity and the heat and rainfall present a more dramatic change.
It is therefore important, for those wishing a painted finish, or a semi-solid or solid-body finish, or any of the exterior polyurethanes or Spar varnishes to wait 6 weeks, while bearing in mind that our products cannot be compared to a front door, or a garage door, or the siding fixed to the side of your house. All of which are insulated on one face, and covered by overhead structures. The gates and fences, etc are all fully exposed to the weather and are more accepting to absorbing finishes than bodied finishes.
Once again, more on this by visiting the Pre-Finish Options page.

Our illustrious mascot, Sir Harrison, who inherited the throne from Sir Teddy, shown below. Who in the end, at 90, wore himself out with his damnable weakness for carousing. A big shot, with his own house across town, overrun with cute poodles and adoring Pekingese. Below, Ben arriving several years ago, as every morning, to fetch Sir T for another day at the office and of course Sir T insists on driving, even though at the time he was near 80 and had had his license revoked repeatedly for thrusting his head out the driver's side window, while driving, barking at oncoming traffic.