More specifications at the bottom of the page, and at Product Specifications.
L
isted below are the relative base costs for Prowell's Fence Panels, Railings, Pony Panels, and Trellis Panels. Within Gallery #3, various designs are given a percentage above or below this Base Cost, linking to the table below. The purpose of this system is to allow you to browse with a mindful eye on costs.
*Do not forget to add or subtract any percentage assigned to the various styles.
FENCE PANELS
RAILING PANELS
TRANSITION PANELS

Sample Widths
To 42″ ht from grade (Railings)
To 72″ ht. from grade
Up to 36″ Width
$1,300/ea.
$1,400/ea.
36″ to 60″ Width
$1,460/ea.
$1,630/ea.
60″ to 72″ Width
$1,630/ea.
$1,960/ea.
72″ to 84″ Width
$2,075/ea.
$2,250/ea.
* Western Red Cedar. 1-5/8″ thickness
* All Panels, with the exception of grid panels #4, 19, 21, and 24 are limited to a maximum 60″ width per panel.
* The open grid panel styles #19, #21,and #24, can extend to a maximum 84″ width (Noted on each panel page)
* Pricing applies to both the trade and consumers.
* Heights over 72″–Please inquire for pricing.
* Design your own fence. Borrow and mix-match from one fence style to another.
| PONY PANELS | |
| --- | --- |
| Sample Widths | 24″ maximum net height |
| Up to 36″ Width | $1,060/ea. |
| Up to 60″ Width | $1,175/ea. |
| Up to 72″ Width | $1,510/ea |
* As an appendage to existing masonry walls or wood fences, with a max extension height of 24″
* Check each style for the maximum width allowed.
* 3″ x 3″ clear cedar posts with pre-embedded threaded rod: $54/each
*To see an example of a Pony Panel, Click Here
| TRELLIS PANELS | | |
| --- | --- | --- |
| Sample Widths | To 4′ ht | To 6′ ht |
| Up to 36″ Width | $1,010 | $1,125 |
| Up to 60″ Width | $1,460 | $1,685 |
| Up to 72″ Width | $1,910 | $2,130 |
* As free-standing panels set between posts (posts not included)
* As mounted to side-walls (with the lift-off-cleat mounting system)
| CANTILEVERED CORNERS | | |
| --- | --- | --- |
| Sample Widths | To 42″ ht | To 72″ ht |
| Up to 24″ x 24″ | $2,515 | $2,780 |
* As a corner without posts.
* All Cantilevered Corner Panels are limited to a maximum 24″ return. (From the center miter, 24″ net width in both directions).
*A light footprint design for HVAC enclosures
*To see an examples of the Cantilevered Corners, Click Here


Note: The pricing system allows you to browse the offerings with an eye on costs. As you browse the Fence style in Gallery #3, make a note of each style's percentage above or below Base Cost. This is the percentage you add or subtract to the above Base Cost
If you prefer, we will apply a sprayed finish your panel prior to shipping or pick-up. Follow the 'Pre-Finish Options' linked on the left to learn more.
More information and photo narratives are available at Product Specifications, linked here and on the left margin.
Prowell's Post Caps are built-to-order. $212 +_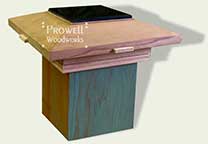 Typical posts for Pony Panels. 3″ x 3″ x 24-1/2″ ht.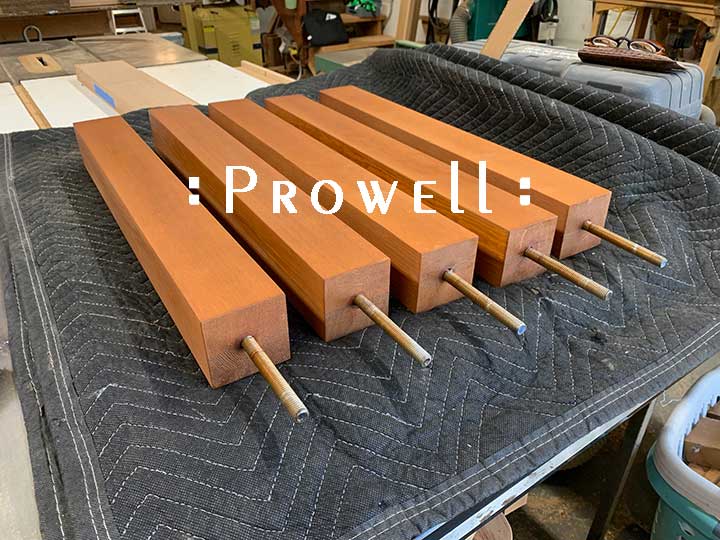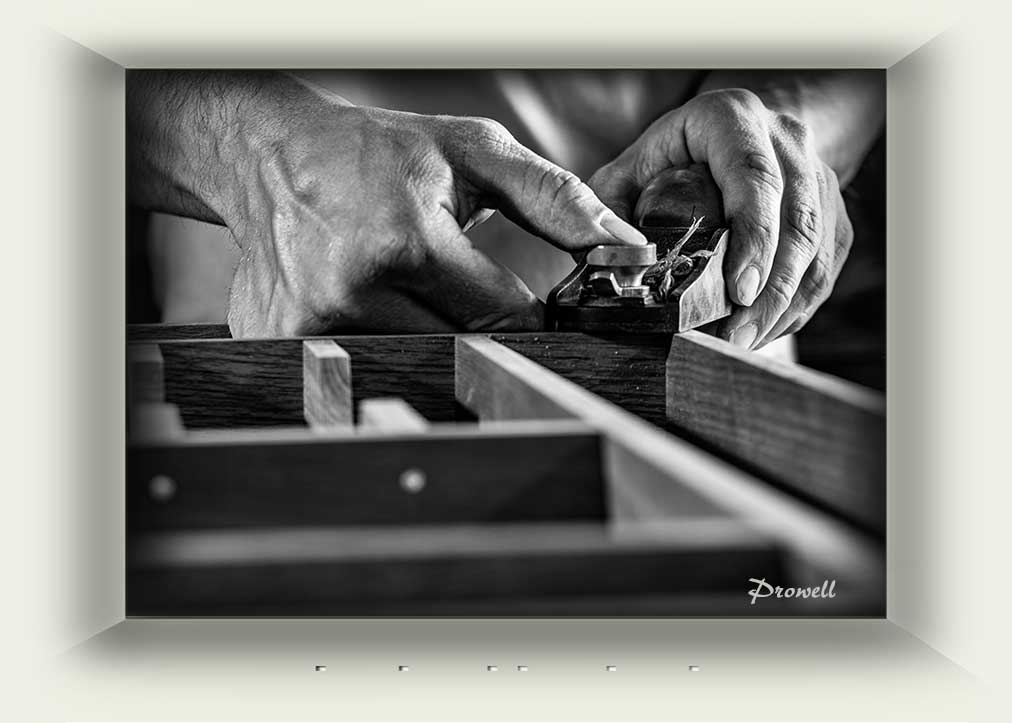 All commissions include, upon receipt of advance payment, a posting of statements, drawings, site photos (when applicable) and any data that might simplify communications. This site is available normally within a few days of payment and remains active for the duration of the project. Upon receipt of an email linking you to your site, it is necessary to review and approve the data before work can begin.
* CANCELLATIONS: Because our products are custom made, a 25% fee is withheld for cancellations (not to exceed $1000), or requests for a refund of the advance payment prior to approval of drawings. There are no refunds once the drawings have been approved

Extraneous Notes and Explanations
(Found also under Product Specifications)
* The listed fence costs do not include posts and standard post caps.
An important note regarding your posts. The box on the left is a link to an example post setting. It will make the difference between a post with an 8 year life and a post with a 30 year life. When investing in Prowell's Fence-lines, do not allow an improperly set post to be your weakest link. Insist your installer follow this method for posts that are to be set into the grade. Other methods, such as above-grade brackets or threaded rod, should be relegated to 60″ maximum heights.
* Prowell's Fence Panels are a maximum 60″ width, with the exception of open grid panels extending to a maximum 84″ width. We offer a price column for panels at 36″ or less in width because often a gate is flanked by two panels on either side that are less than 36″. Bear in mind that the panels are made to specified widths, depending on your site measurements and are not relegated to the fixed widths in the pricing columns.
Calculating the Math: The link on the left leads to an example layout, as well as an explanation of how to calculate your panel count. Over a given run, panels are configured to equal widths as close to the maximum widths allowed.
—————* If for example if you have 32 ft of straight fence-line, we translate that into 384″. If you are using surfaced 6×6 posts at 5-1/2″ net, simply divide 384″ by 65-1/2 (one post + one maximum 60″ panel) to reach the number of panels required. The final, exact width of each panel will be called out in the dimensioned drawings provided to your review upon the onset of each commission.
Fabricated in clear, dry, vertical-grain western cedar with a minimum 20 growth rings per inch.
* Some Fence Panel designs are shown with Pattern Blocks. Pattern Blocks are small blocks joined to the pickets to create a subtle visual break from the linear repetition of a continuing fence. These are simply a visual design signature with the exception of Style #10 and Style #16, where the Pattern Blocks provide stability and alignment to continuous pickets.
wood gate For more information regarding sloping grades, follow this link, also found along the left-margin links
*The Installation Manual is a step-by-step procedure for installing the fence panels and posts. We strongly suggest you or your installer read this. A simple straight-forward process that can help with the installation, but also provide installers with a guide to estimating cost. At this point, our translation of the Installation manual into Spanish extends only to the Pedestrian Gates.
* Confused? If it all seems too confusing, you can simply give up. Return to your favorite pastimes and dismiss the whole process as an inglorious aggravation.
Or . . . you can call or write Charles and Ben and discuss everything over the phone or by email. Mention your preferred Fence Design from the gallery, and your approximate overall dimensions. Include your zip code for shipping costs. If you are uncertain of what fence style is best for your site, you can send a jpeg of the proposed setting and the corroborating landscape.
* With rare exceptions, each of the fence designs featured on this web site are original designs developed by Ben and Charles Prowell. If we fabricate a design presented by your architect or designer, or the homeowner, full credit is listed in the event the work is featured within the galleries.