Custom Wood Garden Bench #2
$2,400: 3 '- 5′ length
$2,625: 5' – 6 ' length
Go to Base Price Table
#2
CUSTOM WOOD GARDEN BENCH #2
Prowell's Outdoor Garden Bench #2 features a patterned backrest.
Ships natural or pre-finished
See Pre-Finish Options
Shown below at 6′ length
CUSTOM WOOD GARDEN BENCH #2
Claremont, CA
Outdoor Bench #2 in Claremont, California. A slightly lonely photograph, shown with the Prowell Wood Fence #24 and Garden Gate #10, and yet, without the established landscape and ground-cover, it all appears unfinished.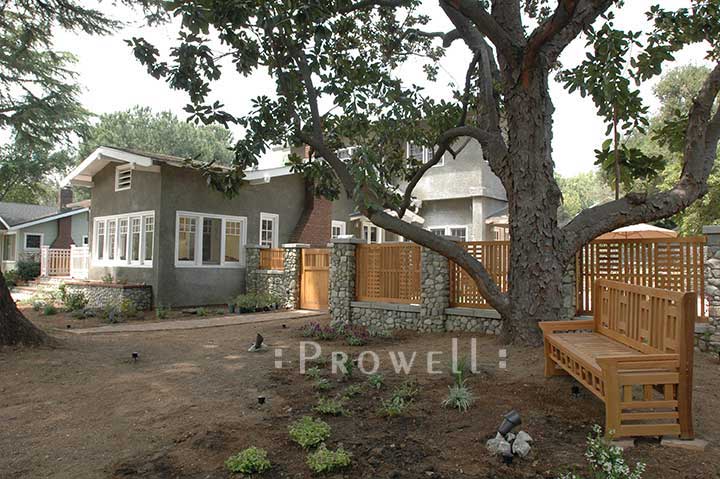 CUSTOM WOOD GARDEN BENCH #2
Old House Journal 2007
Click Here to view the PDF of this article, featuring Bench #2.
Click Here to view the Gallery of Articles and Features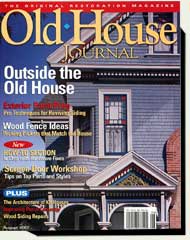 WOOD GARDEN BENCH #2–PROGRESS
Prowell sculpting the legs of the original Prowell Garden Bench, working a spokeshave that has been in the family for generations. The sculpted legs, by the way, was a detail that no one but Charles liked, and thus it was eliminated on later models.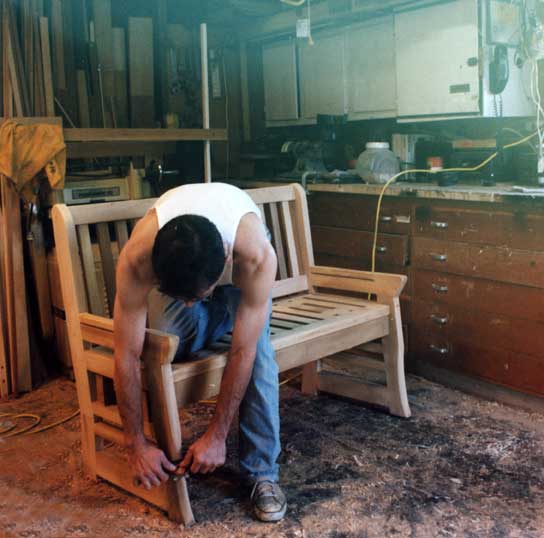 WOOD GARDEN BENCH #2–PROGRESS
Ben at work a new Garden Bench Design. 2003