Outdoor Columns as Post Wraps and Exterior Lighting for a Prowell Entry Assembly
*The lower pickets or solid panels are interchangeable on all column styles.
WOOD GARDEN COLUMN #3
This Column is Base Price
> Go to Base Price Table
#3
LIGHTED WOOD GARDEN COLUMN #3
The #3 Gate Column. Two-Sided grid.

Miami, Florida
With this Miami property, we find the 6×6 steel posts situated behind existing and structurally unsound stone columns. An overall opening that accommodates both the Driveway Gate and Pedestrian Gate, separated by a steel post that has been wrapped with our Wood Gate Column style #2.
Shown with Gate Style #51 modified for a top gable rail.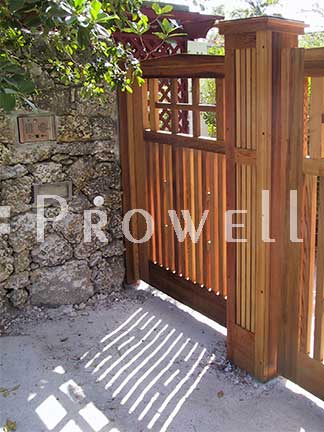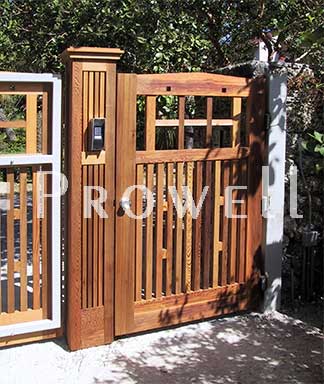 Miami, Florida
WEST ENTRANCE
The purpose of the Outdoor Gate Columns is to conceal the steel or wood post, while linking the Gates and the Gate Columns as a single design feature.
Below, A single Wood Column separating a pedestrian and driveway gates.
Shown with Driveway Gate Style #16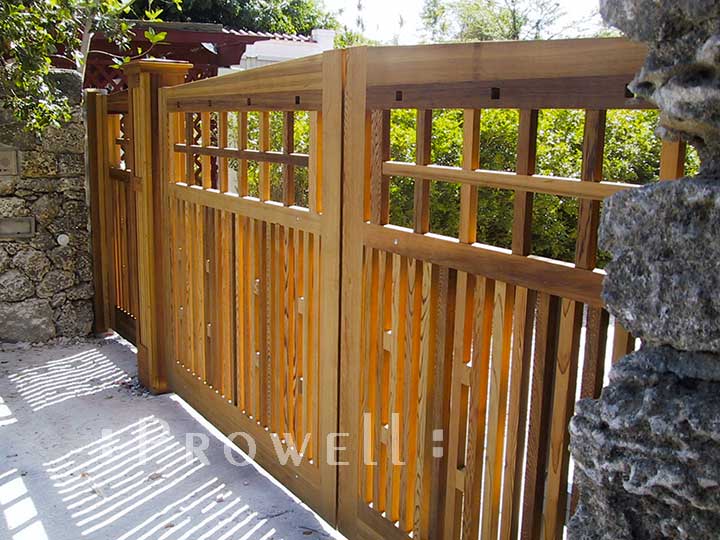 #3-1
LIGHTED WOOD GARDEN COLUMN #3-1
Base Price
Kentfield, CA (Marin County)
We see the Pedestrian Gate hinging directly off the columns with Prowell's 4″ bronze ball-bearing butt hinges. The latch is triggered with a Rofu electronic strike system not recommended. (Standard lock-sets require a much narrower swing clearance, and therefore run a higher risk of seeing the gate swell, causing it to wedge against the post or column and what results is a pushing and shoving motion each time the gate is opened and closed. The joinery is not happy with this effort, and for that reason, we will not stand by the long term survival of a gate not sing a standard gate latch with a horizontal drop bar.)
For more information on electronic gate access, Click Here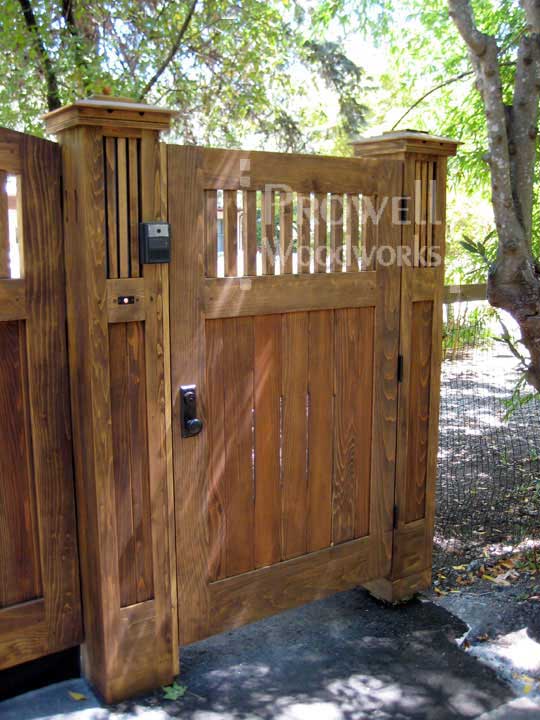 LIGHTED GARDEN COLUMN #3-1
Base Price
Kentfield, CA (Marin County)
Four Lighted Gate Columns supporting a double Driveway Gate, with a Pedestrian Gate on the right and a fixed Wood Fence Panel on the left.
Shown with Driveway Gate style #14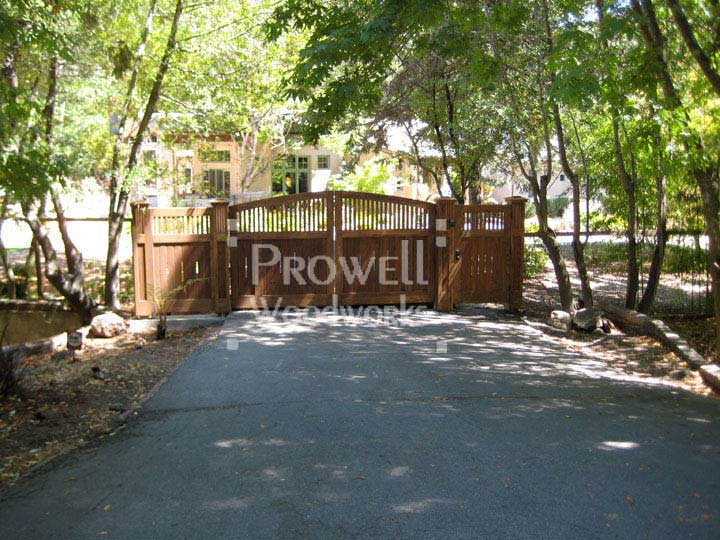 #3-2
LIGHTED WOOD GARDEN COLUMN #3-2
Base Price + 12%
Bel Air, CA.
An example of where the column was designed to the existing dimensions of a stucco pillar. As with most all Gate Columns, it arrived as a three-sided unit, slipping around the existing post and the fourth side secured in place as a final, easy step.
Shown with Gate style #92
Photos courtesy of Alice Patterson Photography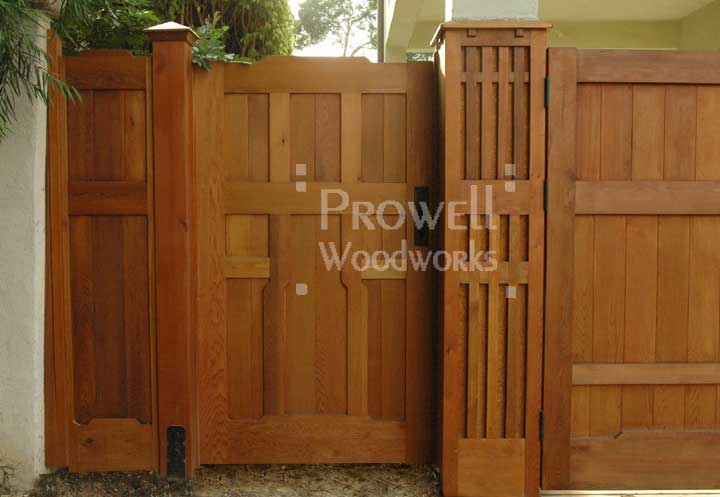 LIGHTED GARDEN COLUMN #3-2
Bel Air, CA.
Shown with the Driveway Gate #26 and Pedestrian Gate #92.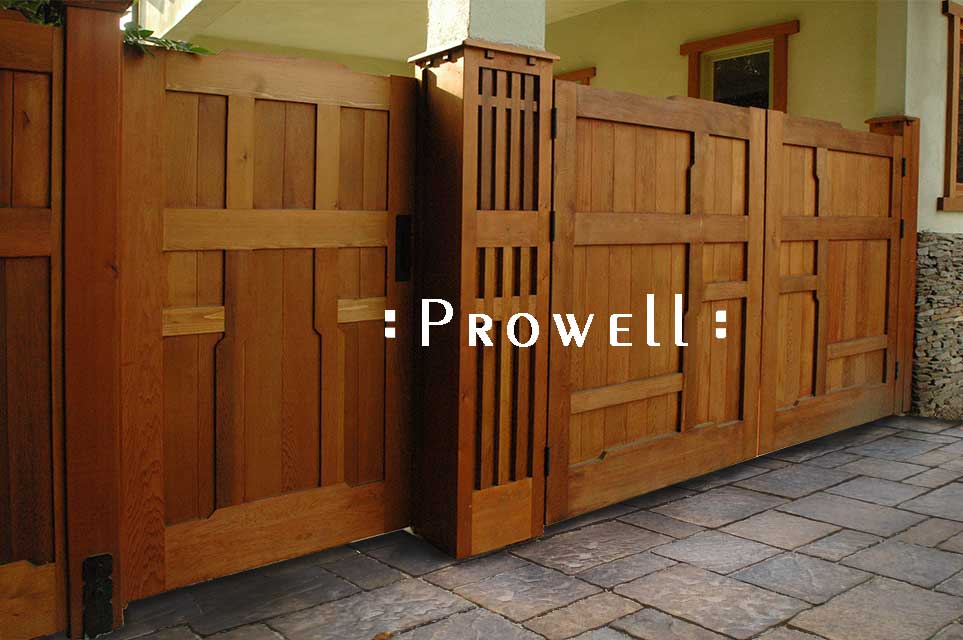 LIGHTED GARDEN COLUMN #3-2
Bel Air, CA.
In this application, however, we might best consider our assembly in a more modest role by giving it a color that is more in keeping with the precedent of the house. We're after the overall affect, the sum of the various contributions to a property preferably not allowed to upstage the balance of the whole. Perhaps the olive green we see within the window sashes and bay roof-line would be a better color match.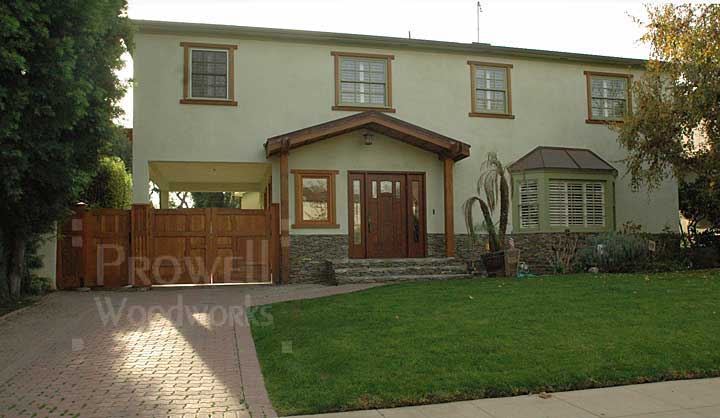 #3 (0204-Frankel)
#3-1 (0813-Hansen)
#3-2 (0507-Feitelberg)