SOLID BRONZE GATE HARDWARE
Latches and Dead Bolts are pre-bored in the shop for our Gate Patrons. Those sourcing their Gate Latches elsewhere are responsible for their own boring.
Note to Prowell Gate Patrons:
–Your selections are added to your overall statements
For Hardware-Only sales:
For gate latch orders, we need:
Your gate thickness and swing direction (see diagram below)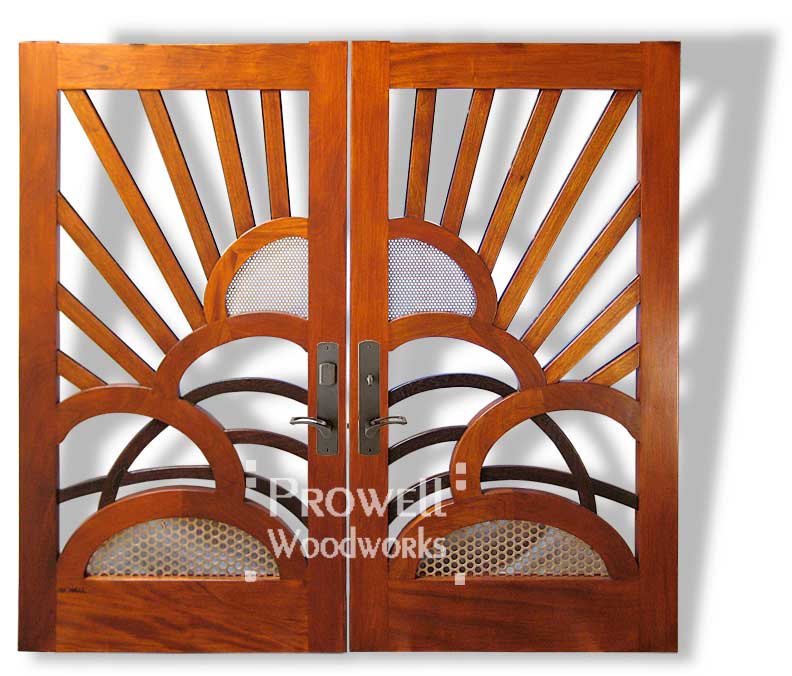 Prior to the early 1990's, garden gates were carpenter's affairs. Screwed and nailed 2×4 frames with diagonal bracing that warranted little more than a functional latch. Two years of prototypes lead Prowell to a new benchmark in this long overlooked genre that suddenly raised the bar in the workmanship and design of a long overlooked medium.
And yet there remained no comparable gate latches of an equal quality. There was at the time a manufacturer in England who worked from molds dating to an early English aesthetic, in iron, and powder-coated black with the result of rusting iron within months of installation.
Prowell badgered the manufacturers in the states to develop a line dedicated to gates. But for years and years no one believed there was a suitable market to warrant the investment. That is until Rocky Mountain stepped forward around the turn of the century, the 21st century, with a limited offering of wonderfully made bronze latches from their foundry in Idaho. The molds are clean and succinct, while providing the durable convenience of cam-driven spring-loaded levers.
At about the same time, Coastal Bronze developed their own offerings. Also in solid bronze. A line that has recently been expanded toward an aesthetic more in line with Prowell's gate designs. Forever Hardware, linked above.
Followed by Ashley Norton, with their durable, and handsome, solid bronze offerings.
And along the way each of them have added a medley of gate accessories.
There were now choices, where for many years before, none existed.
A partnership developed between the gate designer and these three manufactures. A partnership that continues to this day, providing one another equal counterparts toward a level of workmanship and design that have long been the benchmark in this genre.
Prowell Woodworks was founded in 1977 in San Francisco, CA.
Swing diagram