Prowell's Signature Cedar Post Caps
Prowell Wood Post Cap Style #1

Prowell  Wood Post Cap Style #2

Price Table for Custom Wood Post Caps #1 and #2
Size
Each
4+
24+
4×4
$185
$160
$145
4×6
$200
$175
$160
6×6
$200
$175
$160
8×8
$220
$185
$175
12×12
$250
$225
$200
Beyond
12×12
Inquire
Our fencepost caps maintain more or less the same proportions for the 4″, 6″ and 8″.
The top tier plate as black glossy polycarbonate
So we max out the credit card and hire a hot shot photographer who charged by the day and a model from the agency who was no more than an outline and we get the final proofs and there's Lewella. Again, and again. Every shot.
Hard to be upset. She keeps the shop clean, for sure. And so pleasant to have around.
We kept the shots, as you can see, and paid the hot shot and the wispy model and Lewella's happy and unless our viewers mind, all is well.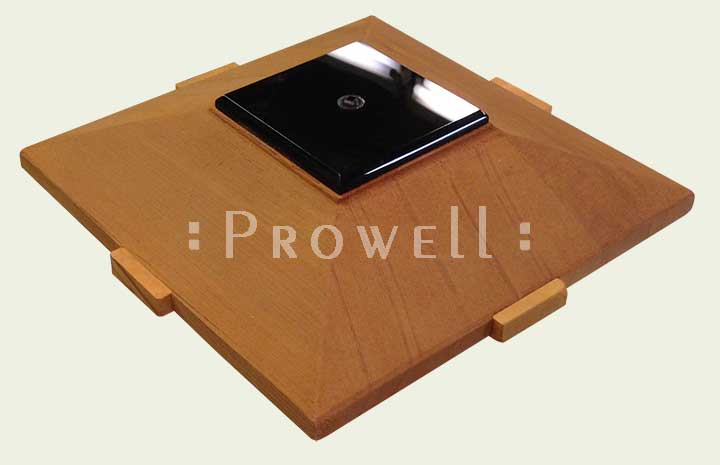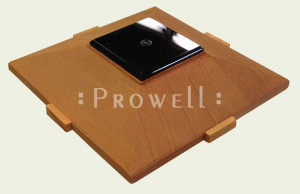 12 x 12 Post Cap.
Shown with Prowell's Lighted Garden Column #8-1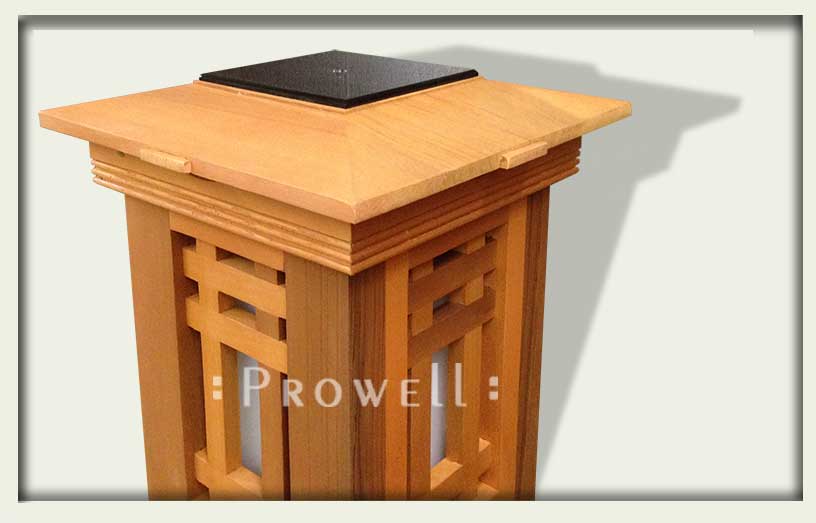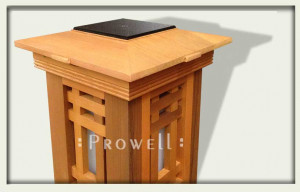 25-1/2″ x 11-3/4″
The  fencepost caps come in all sizes. The larger caps are often for masonry site columns and it would be wonderful if more of you sent us the photos that help illustrate this as a completed installation.
Inquire for pricing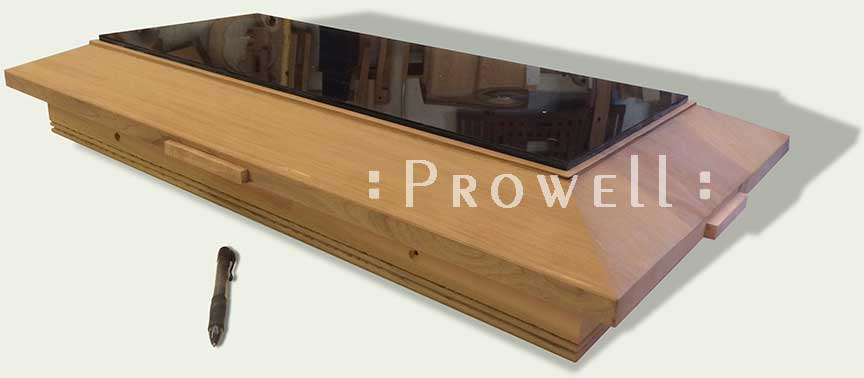 7″ x 9-3/4″
Fitting a post at 5″ x 7-3/4″
Shown with our pre-weathered finish.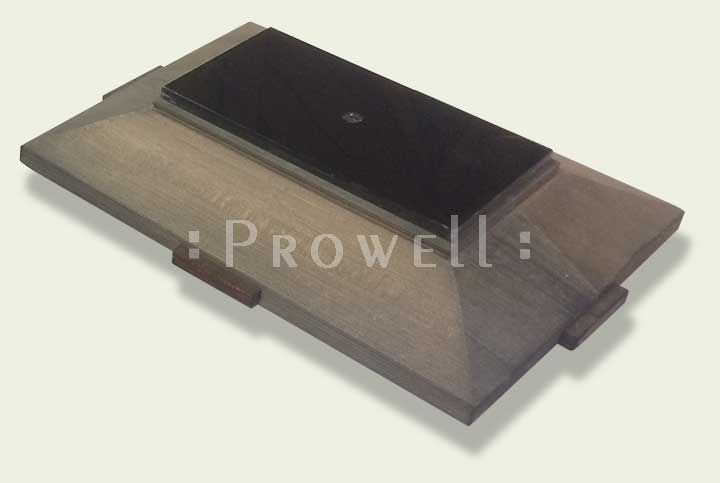 Our founder, ever protective of his true identity against the sudden comeupance of a unidentified impudence.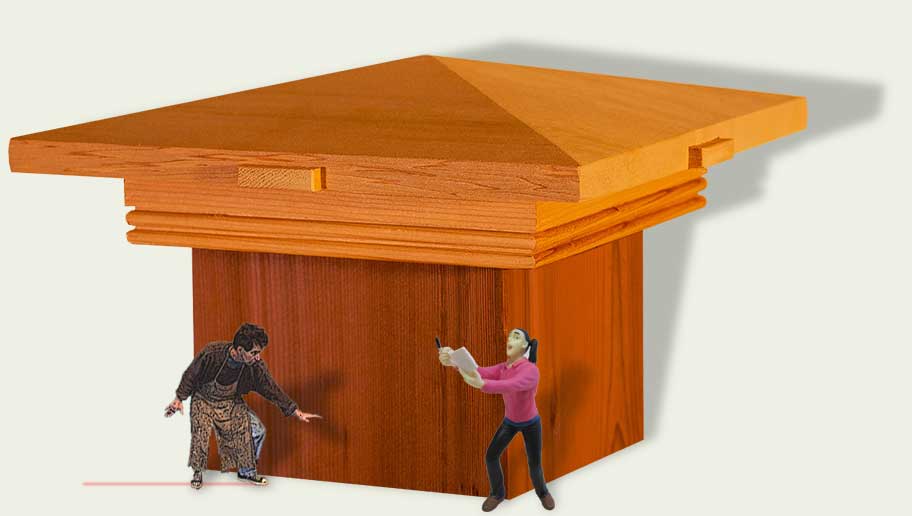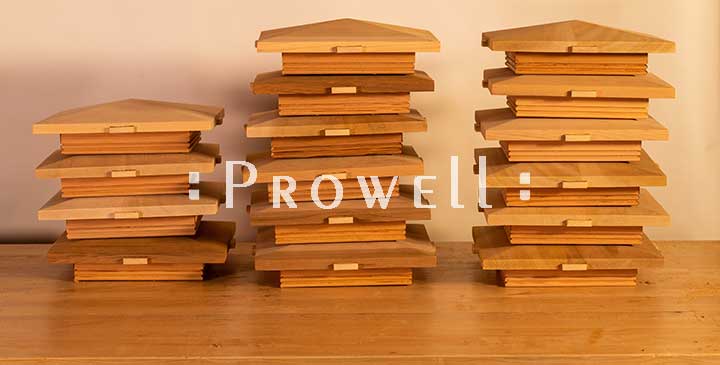 IN-PROGRESS
HOW TO BUILD WOOD POST CAPS –SHOP PROGRESS
The cedar post caps are made as multiples ranging from 2 to 4 dozen at a time.
Below, Ben sands the tapers and prepares to cut and mount the beaded apron, shown as long lengths prior to mitering.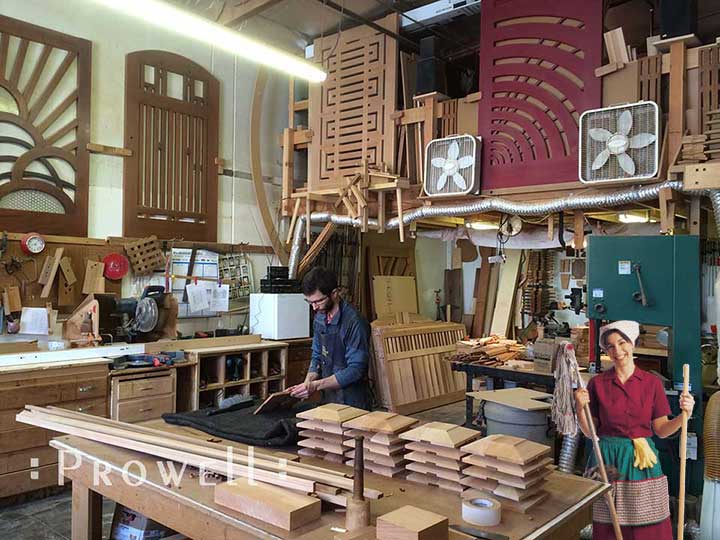 BUILDING WOOD POST CAPS –PROGRESS
The wood post caps are shipped with a protective 'peel away' paper over the acrylic.
Finally, every cap is dusted and swept clean by our inimitable Lewella Longings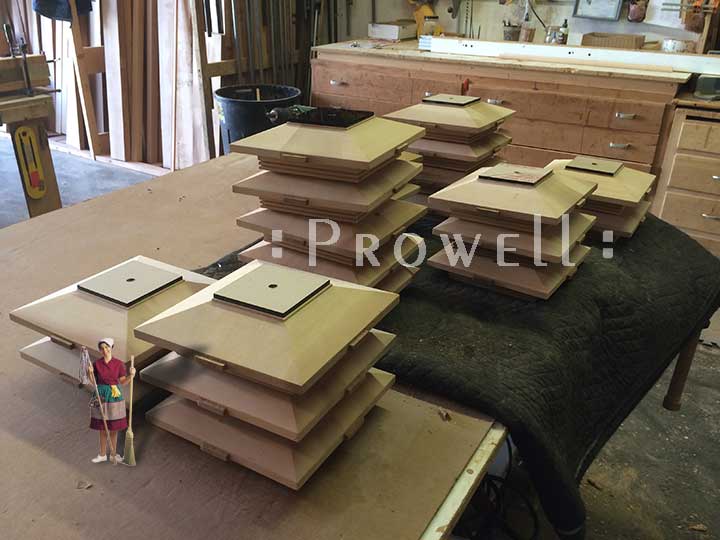 BUILDING WOOD POST CAPS –PROGRESS
Creating the pitch on the band saw. We've since created a jig that makes this process simpler, and safer.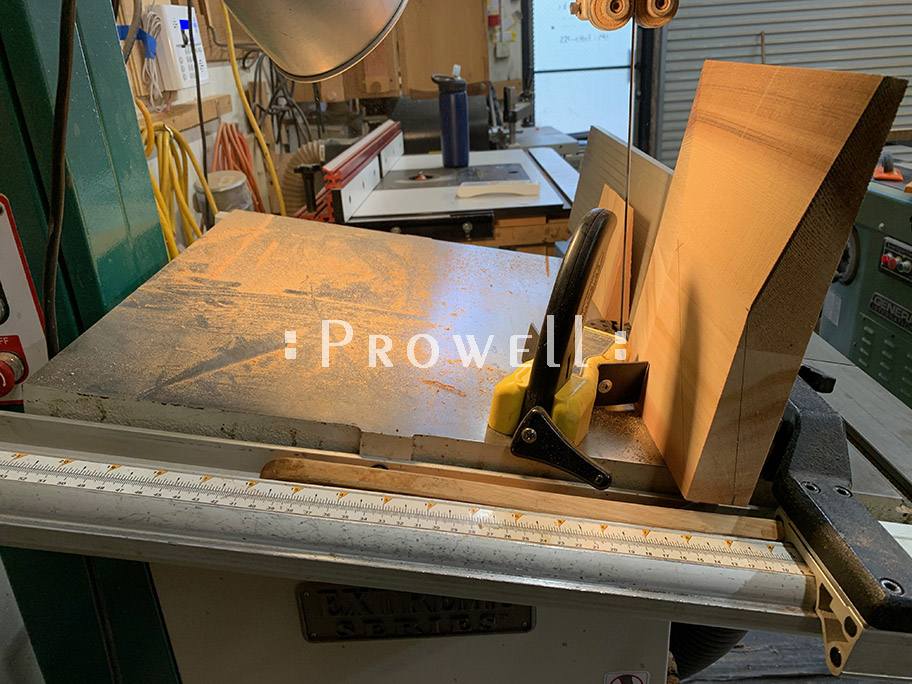 BUILDING CEDAR POST CAPS –PROGRESS
Charles working on a designs for  48″ x 48″ custom wood post caps.
HOW TO BUILD A CUSTOM CAP CAP –PROGRESS