RAIL GRIP
Projection: 3-1/16″
G261 – 7 1/2″ c-to-c
Single $407.00
Double $847.00
G284 – 8″ c-to-c
Single $407.00
Double $847.00
G263 – 12″ c-to-c
Single $407.00
Double $847.00
G264 – 14″ c-to-c
Single $439.00
Double $911.00
G265 – 16″ c-to-c
Single $439.00
Double $911.00
G268 – 24″ c-to-c
Single $569.00
Double $1172.00
G269 – 32″ c-to-c
Single $678.00
Double $1390.00
G267 – 36″ c-to-c
Single $678.00
Double $1390.00
G286 – 60″ c-to-c
Single $1483.00
Double $2999.00
G285 – 48″ c-to-c
Single $948.00
Double $1928.00
G266 – 30″ c-to-c
Single $678.00
Double $1390.00
Function: Push / Pull
Single grips are thru-bolted. Double grips have back-to-back mounting.
Available with or without the escutcheons back plate.
–Shown in White Bronze Brushed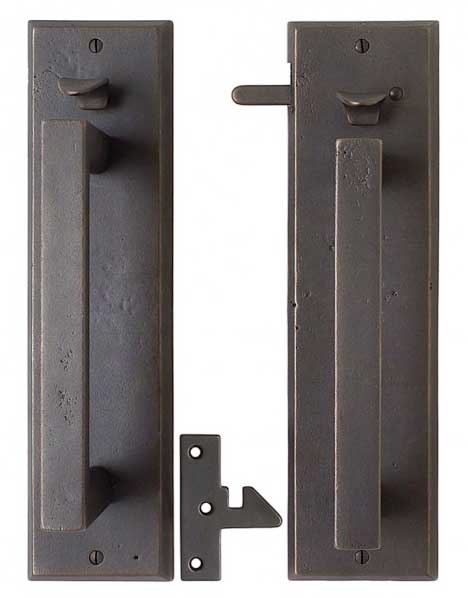 RAIL GRIP G261 with RECTANGULAR GATE LATCH
ESCUTCHEAON G465/ G465 (3-1/2″ X 13″ )
$1196
Function: Gate Thumb Latch
Shown in thumblatch function with the G261 7 1/2″ Rail grip in silicon bronze, dark patina.

METRO ESCUTCHEON G233/G231
DEAD BOLT FUNCTION
2-1/4″ x 20″
G233/G231 Push/Pull Dead Bolt $1062.00
G230/G230 Push/Pull Dummy: $892
Grips: 12″ Center to Center.
Escutcheon G233/G231 : 2-1/4″ x 20″.
–Shown in Dark Bronze