PRODUCTION:
Sonoma County, CA
Seattle, WA
Chicago, IL
Installation Guides
ENGLISH
SPANISH
Installacion para las Fence PDF
Installacion para Puertas Entrada PDF
Related Installation Links
Product Specifications


Comprehensive Pictorial Explanations
Setting Your Posts


 Get 30 years from your posts!
Jambs
Installing Jambs #1


Embedded to columns
Installing Jambs #2


Composite applications
Installing Jambs #3


Mounting to steel
Installing Jambs #4


Out of Plumb walls
Misc
Porch swing sketch / specs


 Acceptable clearances and site specs.
Gate Swing Diagram


 Swing handing sketch
Example Fence Layout


Layouts and required dimensions
Pool Gate Codes


Local codes and ordinances
A Word About Wood


Species and grades make a difference
Recommended Finishes


Our Preferred WoodRX
Technical Support


 Email us with your questions
Basement Remnants


Bargain hunting Prototypes and seconds
Charles on site in the Oakland hills. A sight so rare it warranted photographic proof. Leaving the controlled tranquil ambiance of the shop for the injunctions of endless intersections and traffic lights and the jarring horns of impatient motorists fed up with the likes of Charles, managing all this with both hands gripped to the wheel as if he were a 7-year-old learning to ride a bicycle.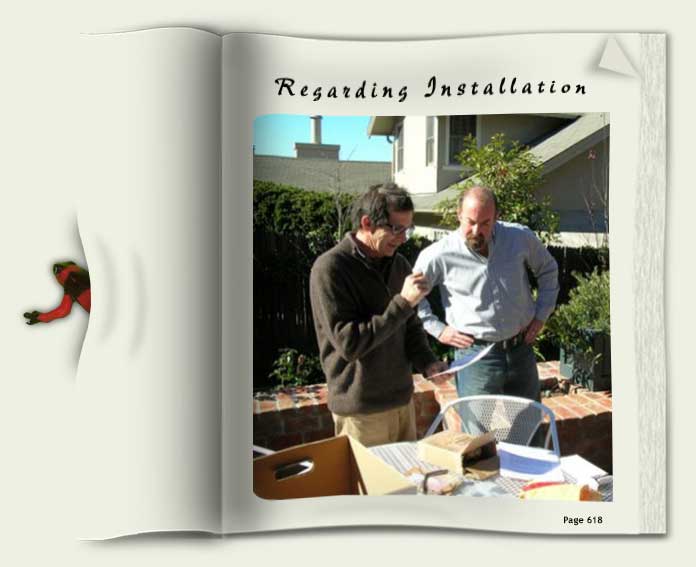 I
t's always a relief on our end to know there is on hand a qualified journeyman carpenter or contractor to manage your site measurements and installation. For some, this is you, the homeowner, and for others, a 3rd-party tradesman who will provide his/her level of competency to insure the products don't suffer from a weak link that could impact the functionality and performance for which they were designed.
For the hands-on homeowner, consult the step-by-step install links on the left and feel free to write or call us for support. These guides will also appear on your Site Page and arrive with the products as printed copies along with your drawings.
Local: The bay area accounts for about 30% of our commissions.
Brian Van Rheenan (pictured above) of Provident Construction manages the vast majority of our Bay Area installations.
He prefers to see photos of the site, along with approximate measurements.
With this he will provide a generalized quote for the installation.
Once the project is officially on board, he will schedule a site visit. Meeting the homeowners, discussing any concerns, and providing accurate field measurements that Ben and Charles will use in creating the drawings.
For those in the San Francisco Bay Area who would prefer a recommendation from Prowell toward your installation, let us know.
If you're reorienting your landscape toward something all together new and different, it would be unfair to expect your installer to help provide this service. They can offer their thoughts on the feasibility and coordination of a proposed layout, but the overall design schematics are the responsibility of you, or your landscape architect / designer.
The Rest of the Country: Accounting for the remaining 70%,, with 80% of that 70% along the eastern corridor simply because 70% of that remaining 80% actually live along the eastern corridor where for a myriad of subtle reasons Ben and Charles would also prefer to live. Where homes are built with proper setbacks from actual sidewalks built by tradesmen who weren't drunk with gold rush fever and towns with proper commons and a hundred axillary roads to reach any given destination. And don't overlook the civilized apparency of rail transit. And let's mention a manufacturing and light industry component that maintains a welcome presence within a more balanced economy not necessarily beholding to the veneer of tourism.
Where were we . . . ?
Understand you or your installer are welcome to call or write with questions and concerns, before or during the installation. Approximately half of all gate orders are installed by the homeowner themselves. Driveway Gate installations are more complicated and best performed by qualified carpenters or contractors. The majority of the extended fence-lines are normally performed by carpenters and contractors.
With your finished product will arrive a packet that will include: Appropriate Installation Guides; A reminder sheet of the most common mistakes made during installation; and the same dimensioned drawings that were originally approved prior to fabrication in the shop. These drawings will have the pencil marks and notations made in the shop and may even exhibit a coffee stain or two. They are your working drawings. Save them. Their value as collectibles may compound over time. Charles or Ben's signatures notwithstanding.
If there is a commonality among those of you who act as your own installers, it's a universal tendency to lose control of the pace of your work. An assumption that the work will progress with a definable timetable, and when you encounter hurdles, and delays, the pace increases to make up for what would naturally be considered Lost Time. This is always a mistake. It's better to use this opportunity as an exercise in focus. This principle we hear so much of: living in the moment with your focus on the moment, the process, and less on the finish line. It shouldn't be a horse race. Horse races assume the process itself isn't worthy of our full attention and time, that the process is beneath our skill-sets. A difficult transition for most of us raised in a culture where results are rewarded and process is waved aside as if dismissing the flies. If you practice this simple elemental mindset, you may, conceivably, come to a revelation that it IS NOT about results, that a life lived toward results is a life hinged on accomplishments–trophies, medals, certificates, promotions, bank accounts–when in actuality our lives are lived as a compilation of the hours and days and years wallowing pleasantly in the process of life itself.
All of a sudden we've touched upon one of the most overlooked cornerstones of anyone's life. Those who've faced mortality preaching live every day as if it's your last. A host of similar slogans and truisms but in practice it's as simple as the father who looks to interest his daughter in fly fishing as an eventual vehicle for a shared interest. Their time together at the practice casting pond is what the daughter will remember decades later. There will be photos in the family album of trophy trout, but when she's faced with remembering her father, it will most certainly be those hours passed together when time didn't exist, when results were deferential, when the process of being absorbed in the act, the seemingly inconsequential moments that feed and nourish the fullness of a life lived, in lieu of a life accomplished.
And at this juncture, the author apologizes for waxing on like an idiot. Stupid author.
Basically, take your time and don't end up like this poor sap who apparently has only the one hand to wield his level!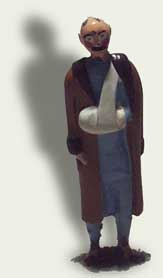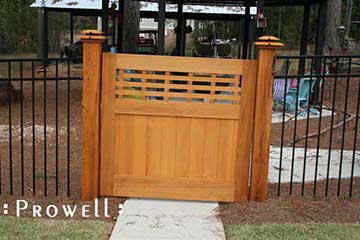 What we've learned over the past few decades:
Recommending a remote installer who may have been involved with another of our projects in any given area intimates that we know and trust him, when in fact we know nothing of him. He was simply the installer secured by a previous homeowner to install their project.
Recommending a remote installer we've never met who consequently visits your site is to present this installer as your first and only face-to-face connection to Prowell Woodworks. He may show up late, or not at all or perform the work ingloriously. He may be rude or unintelligent. His behavior impacts your impression of Prowell Woodworks.
Remote installers regularly attempt to sway the homeowner against Prowell Woodworks in lieu of themselves being hired to provide a facsimile of the same work for a better price. Facsimile is the key here. We've lost innumerable projects due to this phenomenon. The homeowner must often be determined, insisting on what they want. (Not to disparage those in the field, but there is less than a 1% chance that the work of a random installer will share the same plateau as the Prowell's.)
Recommending a remote installer associates Prowell Woodworks with that installer as if we were business associates and therefore liable for his or her workmanship.
We will often hear from whomever you eventually hire. They will call or write to check specifications or present a list of questions, which we will answer promptly. There is no link to competency or incompetency between those who reach out with questions and those who do not. What we can determine, from contact with your installer by phone or email, is their level of skill. Their level of experience in the trade.