Rocky Mountain products ship in 10 weeks
Rocky has eliminated their "Rush Orders" for the foreseeable future
ROCKY MOUNTAIN GATE HARDWARE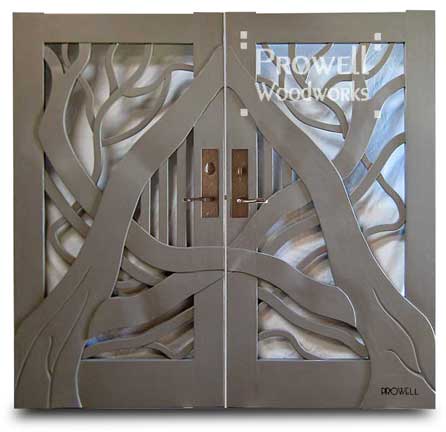 ROCKY MOUNTAIN HARDWARE AND PROWELL WOODWORKS
For the first ten years of Prowell's following Prowell's innovations with the garden gate, there was little to choose from in the way of gate latches. Iron offerings created from molds reminiscent of old world Romanesque aesthetics. Powder-coated black and rusting within weeks of being exposed to the weather, while experiencing an alarming percentage of malfunctioning parts. For years we badgered Rocky Mountain to create a line of latches to compliment not only the design of our gates, but the accountability of their usage. Finally, in 2001, they caved in and hopefully we've sold enough over the years to convince them it was a good decision.
RMH HISTORY
Rocky Mountain Hardware began as a family owned distributor and showroom for other manufacturers' architectural hardware. Over time they began to notice a gap in the market, both in terms of style and the quality of the hardware's operation. They found that architects, designers, and builders from the upscale Sun Valley, Idaho market were repeatedly asking for something that just didn't exist.
That was the beginning of custom bronze work by Rocky Mountain Hardware. Whenever a need arose on a project for a particular type of hardware that just couldn't be found, the company created it. This grew into the realization that there was a market for a new line of hardware: a simple, handcrafted look that would work equally as well in a rustic log home, a Mediterranean-style villa, a French country house, or a more contemporary-style project.
HOW IT'S MADE
The art of crafting molten bronze to fit the image in an artisan's mind begins with art-grade bronze ingots. At temperatures of up to 2,200 degrees Fahrenheit, 300 pounds of molten bronze is hand poured from the crucible to the mold, creating the raw castings which are then given to the experienced hands of highly skilled craftsmen for detailed, perfect finishing of every surface. From there, the bronze enters into a partnership with its environment, responding with ageless grace to the forces of time, touch, and climate to deepen the patina, mellowing it in a way only nature can, as evidenced by the beauty of ancient bronze statues.
>>>WATCH THE VIDEO
Rocky Mountain Hardware is committed to Green Philosophy, has a LEED GOLD CERTIFIED HEADQUARTERS , and all their products are made with 100% art grade recycled bronze .
About Rocky Mountain Hardware
Patinas
Rocky Mountain Hardware, Inc., patina finishes may in time rub off in places due to the frequency of use. Rocky Mountain Hardware, Inc. does not consider this to be a defect, but rather a normal process which cannot be avoided, and over time enhances the naturally aging appearance of the metal. Thus, Rocky Mountain Hardware, Inc., cannot guarantee product patina finishes and will not repair or replace patina finishes under this warranty. Bronze exposed to salt environments may develop a verdigris finish.
Warranty
Rocky Mountain Hardware, Inc., warrants a lifetime guarantee for its bronze products to be free from defects in material and workmanship. Additionally, the internal mechanisms, including all locks, latches, etc., are guaranteed for 50 years from the date of sale to the original user. The only obligation of Rocky Mountain Hardware, Inc., will be to repair or replace the defective product or parts upon presentation, together with proof of purchase dated within the warranty period. We do not warrant any patina finish or leather. We assume no liability for any labor charges regarding the removal or re-installation of the products; nor will we cover any freight, postage, or handling expense relative to the product. Damages caused by accident, misuse, abuse, or improper installation are not covered by this warranty.
Base Metals
Rocky Mountain Hardware individually pours each piece of hardware using only the highest quality silicon and white bronzes. These two bronzes are distinct in their appearance: silicon bronze contains copper, silicon, and zinc, and is coppery-gold in color; white bronze contains copper, manganese, nickel, and zinc, and is silver in color.
Patinas
Bronze will naturally oxidize over time. Various factors, including time, touch, climate, and exposure to elements, will affect this ongoing aging process, thus changing the color, sheen, and texture of the bronze. This "living finish" is referred to as the patina. Rocky Mountain Hardware uses hand-applied patinas to bring a desired aged appearance to your bronze hardware. Silicon bronze can be finished in a brushed, light, medium, dark, or rust patina. White bronze can be finished in a brushed, light, medium, or dark patina. The patina will continue to evolve at a natural rate based on several aforementioned factors.
Qualities
Each piece of hardware is individually made-to-order, handcrafted, and hand-distressed. Combined with the patina process, this manufacturing approach means that no two pieces of Rocky Mountain Hardware are exactly alike.
Care
The desirable and inevitable quality of bronze is that it will change with time. There is no cleaner, wax, or polish that can stop this process. Ideally, the surface should not be treated with a cleaner. If necessary, however, it can be cleaned with mild soap and water. A high quality clear floor wax may also be applied to any patina to protect the finish.
Through sand-cast and lost-wax processes, Rocky Mountain Hardware produces bronze hardware with a balanced combination of hues, textures, and simple lines to complement a wide variety of styles. The aforementioned partnership is sealed by combining state-of-the-art components and precise machining to achieve an unequaled level of worry-free operation for generations to come.
Green Philosophy
At Rocky Mountain Hardware, they believe that being environmentally responsible is part of their job.
All Rocky Mountain Hardware products are cast of 100% art grade recycled bronze.
Their product is third party certified to contain a minimum of 90% recycled content, of which 50% is post-consumer. Post consumer waste is that which typically goes to a landfill.
While their product is made from 100% recycled bronze, the certification is for 90% recycled content because it takes into account the lock mechanism and other non-recycled sub-assemblies.
The product can contribute up to 2 LEED® points towards commercial projects.
RMH stands behind our product with a Lifetime Guarantee.
All manufacturing facilities are in Idaho, USA.
Corporate headquarters is LEED® Gold certified.