Shipping/Deliveries
Shipping Rates and Crating Methodologies
The majority of our commissions originate east of the Mississippi. Due, it would seem, from the simple fact that 80% of the you actually live east of the Mississippi. We have for decades employed one and two-man artisan shops situated in specific markets such as DC and Chicago to represent this imbalance. But they are often overwhelmed. To muster a timely turn-a-round we will in such cases fulfill your commission in the Sonoma County, CA shop and ship it back for the same delivery fee. This has resulted, after decades of exclusive shipping contracts with UPS Freight, with an 87% discount off all standard rates.
For example:
A single gate shipping anywhere west of the Mississippi: $525.
East of the Mississippi: $625
A single gate shipping to Honolulu : $625
For those of you residing locally in the San Francisco Bay Area, there is the option of picking up your order at the Cotati shop.
For those prefering delivery, a list of fees, based on single gates. Chuck Gantt manages our local deliveries. He will reach out to to insure he meets your requirements regarding schedules and times.
Sonoma County: $125
Marin County: $250
East Bay: $275
San Francisco: $275
East Bay Contra Costa: $325
Northern Peninsula: To Redwood City: $325
Southern Peninsula anywhere south of Redwood City is shipped UPS Freight at $375
It is always best to have someone present to accept delivery. In the event of a potentially damaged crate, you must sign off on the delivery receipt at the time of delivery noting the possibly damaged crate. If on later inspection, there is damage to the product, you must contact UPS freight at the number on your receipt to report this damage within 5 days of delivery and request an inspector. If damage is not noted on the delivery receipt and UPS is not contacted within 5 days, liability falls on the receiver. Prowell Woodworks will not automatically replace your damaged product free of charge.
Your shipping costs are  dependent upon what you order and where it is going. Within the regular shipping lanes, dominated by the bulk of American commerce, the rates are less than if you are located in a remote corner of, say, the upper Michigan peninsula. Because we are a Build-To-Order business, each crate and shipping rate becomes custom. If we sold one gate at one specific size, we would of course have a volume of crates or boxes fabricated to that size. But we do not sell just one product and one size, nor even a limited inventory of ready-made sizes and designs.
If your decision on whether or not to purchase a Prowell product hinges on our reasonable shipping cost, you might consider limiting your wish list and opt for a company offering free or discount shipping. These offers will often appear in large red print, followed by an exclamation point. Otherwise, relax. Prowell's shipping rates are surprisingly affordable.
Crating: A word regarding just how your order arrives. Most garden gates, drive gates, and flanking fence panels are crated in double 275-lb test cardboard and rigid corners. The freight driver will off-load your box or crate(s) at the foot of your driveway. It is your responsibility to either transport this to a preferred location, or simply open the crate or box and move the contents to the preferred location. It is also an acceptable courtesy to ask the driver, for a reasonable stipend, if he will use his hand hoist to move the crate beyond the foot of the drive. The drivers, by union contract, are not obligated to leave the crate anywhere but the foot of the driveway. It is also common that your installer / contractor will arrange to be present for delivery. Freight will call your contact phone when they arrive at the local dock, arranging a delivery time. If your order is crated instead of boxed,, we will insure the truck is equipped with a lift gate.
Damage: Remember, if you sign off to have the crate delivered with no one present, you must open the crate and inspect the contents for potential damage. If in fact on the rare occasion the product is damaged, you must contact Freight at the phone number on your delivery receipt within 5 days of delivery. Take photos and request an inspector. If you fail to report any damage by either making a note of this on your delivery receipt at the time of delivery, or by calling within 5 days, you may be liable for the damage, relieving yourself of any rights to a damage claim. Prowell Woodworks cannot automatically replaced products damaged during shipping.
It is extremely rare that our products are damaged during shipping. But it is important to make note of it at the time and contact Freight within 5 days of receipt.
And finally:
Our standard we-forgot-to-mention up-charge for delivery up-charges to Mardi Gras type calamities where the up-charge is a discretionary sum arrived at pretty much by how the Prowell Woodworks staff reacts to such goings on from the country-bumpkin safe-haven distance of rural Sebastopol, where there was once a calamity back in the 80's when Edgar Edgar and his son Edgar Edgar Jr went dove hunting in the Laguna behind the Ford dealer and their one shot ricocheted off a no-trespassing sign to carom off the side mirror of a new F-150 and eventually clean through the front tire of little Adlai Means new tricycle and you'd a thought it was a gang ! war, given all the hullabaloo. People over-reacted–hippies mostly–and they boycotted the Ford dealer, who had only the one truck to sell anyway, and had lots of meetings and basic hippy effrontery that resulted in the sign posted on Hwy 116:
Welcome to Sebastopol
Nuclear free zone
Land mine free zone
Drug free zone
Pesticide free zone
Dove-free zone
Beyond the Bay Area, your products are boxed or crated as shown below
Geno, the resident artist at Ryan's Custom Crating.
Walking us through the process from the moment your products arrive to when they're loaded and on their way. A poet, some say, who strokes his beard, and strokes it again, and yet again, until he sees in his poet's mind the required sequence, the safest schematic to insure everything arrives at your door packed and crated with the fuss-budgety know-how of an artist.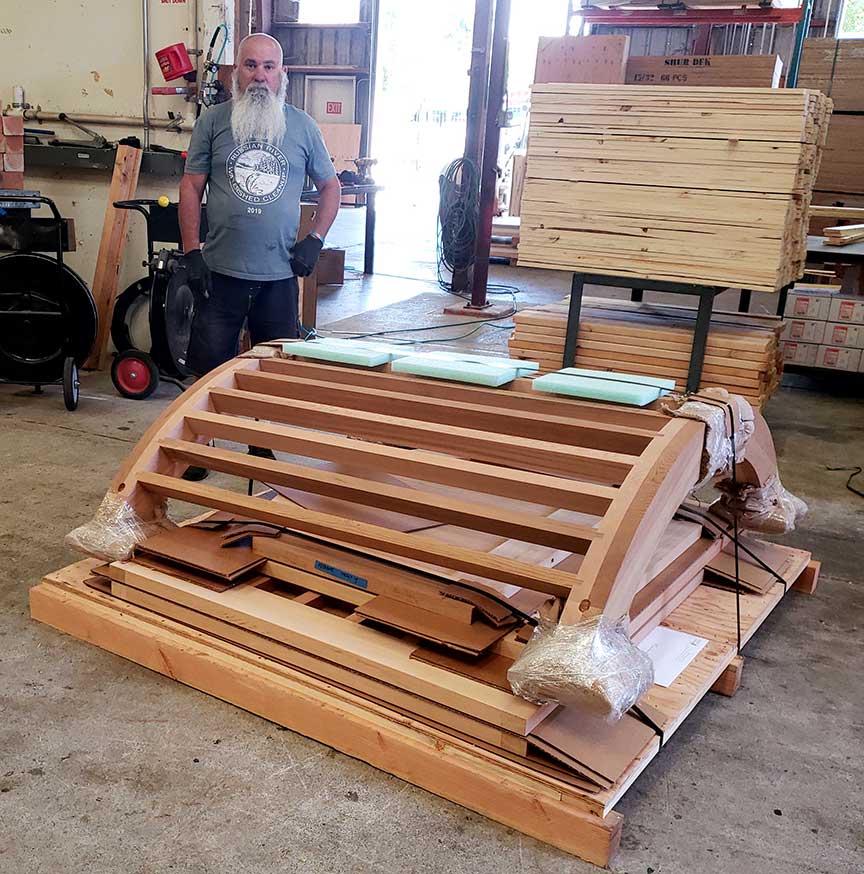 Arbor #15, two foyer panels, and a single gate.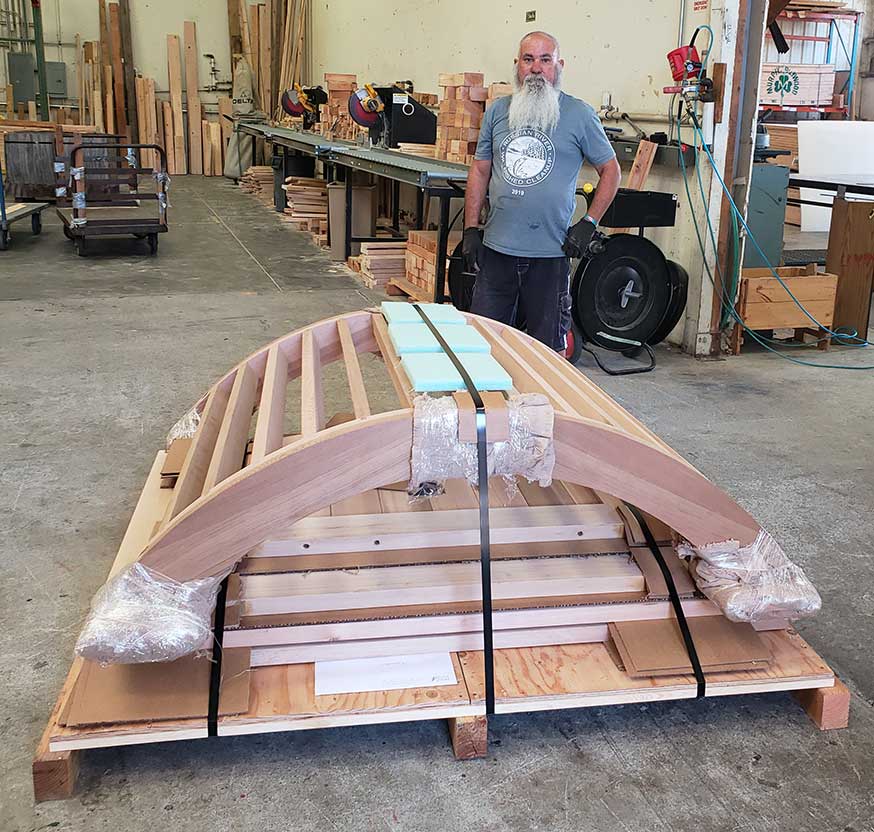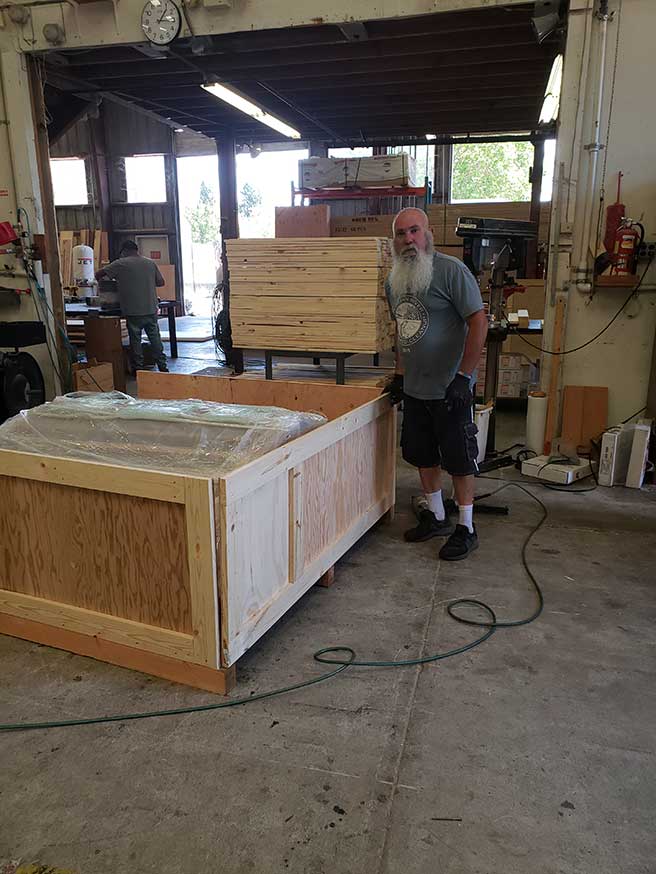 All done.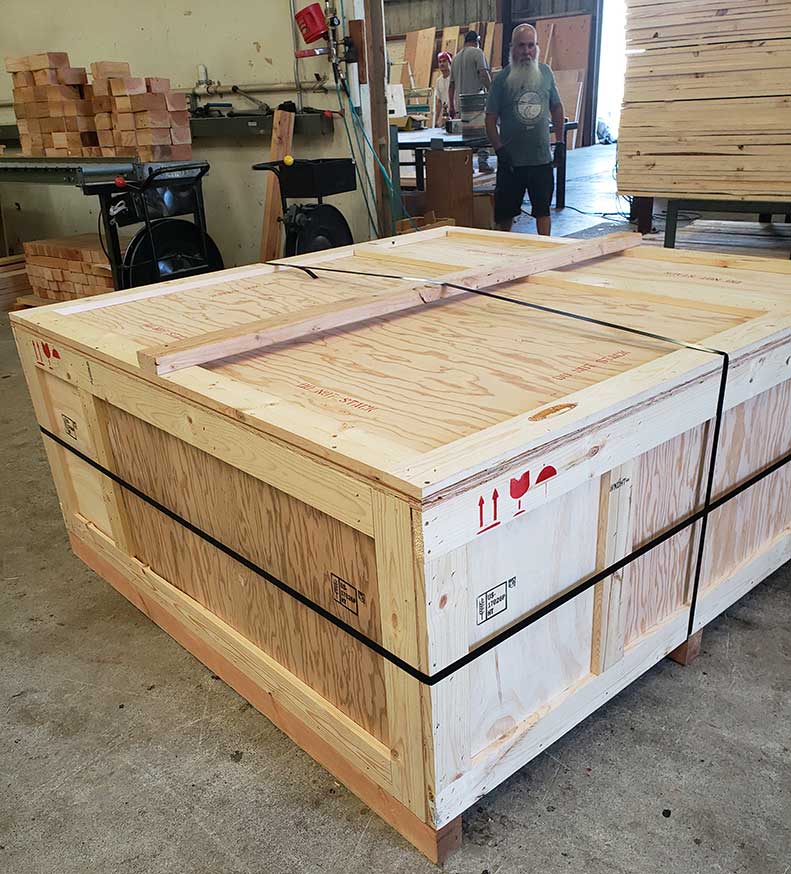 Typical single gates or panels, as below, are boxed and banded.

Below, a typical Pyramid style crate, often employed for the driveway gates.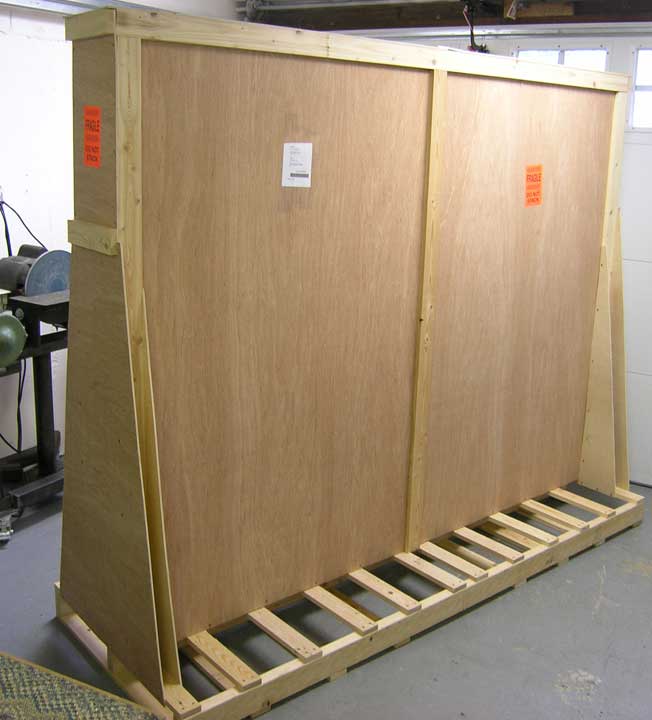 Below, A pair of standard Pyramid crates shipping 45 panels to New Jersey.