(Ground Posts not included)
Valance style Garden Arbor with Wedged Joinery.
Prowell's #4 Wood Garden Arbor is designed as an extension assembly to existing posts, columns, and wall-tops. Below, we show a common extension for existing 4×4 posts, with the mounting caps seating themselves onto the tops of the posts and the complete assembly mounted in a matter of a few minutes. The hint of Japanese aesthetics is furthered by the exposed wedges.

CUSTOM WOOD GARDEN ARBOR #4
The wedges of Arbor #4 are fabricated from Bubinga, Sepele, or Honduras Mahogany.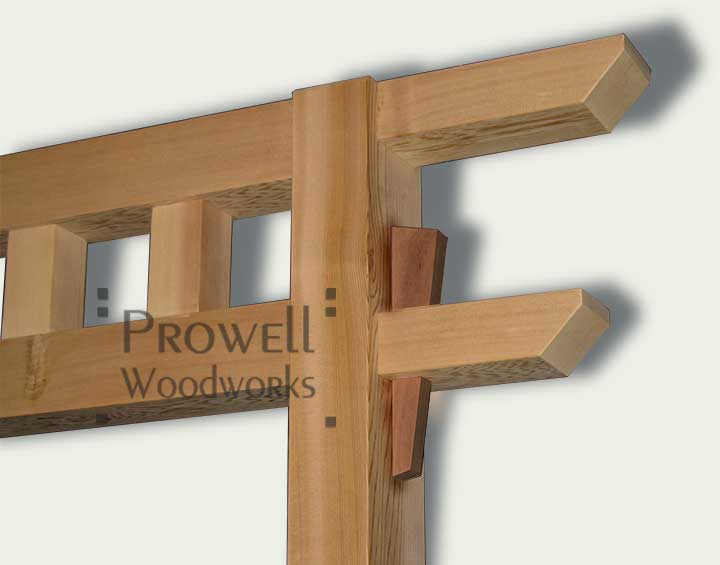 The #4 Garden Arbor at 6-ft width. Here, per our patron's request, we have lengthened the pickets.
Garden Arbor #4 plays on the strength of a through-tenon secured by a wedge— illustrated by Japanese temples whose glue-less joinery holds today, some thousand years after their original construction. In theory, if conditions are met that disallow the invitation to fungi and bacteria, and the methodologies of construction are sound, an assembly will last.
Conditions:
The proper wood species. certain woods are innately capable of resisting bacteria.
The general design that prevents dark cavities without light and air-flow. Such cavities collect moisture, and suddenly they become incubators for rot.
Joinery that allows the wood to breath, expanding and contracting for centuries without being hindered by a fault design.
Joinery that is sound and accurate.
Set to a setting beyond the reach of SUV front bumpers.

CUSTOM WOOD GARDEN ARBOR #4-1
Birmingham, Alabama
One of several of Prowell's Garden Arbor #5 at the Ruffner Nature Center in Alabama.
Prowell's Arbors often arrive, as shown above,and below, with the mounting caps fixed to the arbor trusses. Depending on the application, the caps mount to your posts, columns, or wall-tops with either wood screws through the pre-bored holes in the caps, or with the threaded rod shown on the left. A corresponding hole is bored into the tops of the site posts, allowing the threaded rod to 'seat' itself. Construction caulk adhesive or epoxy is recommended. You will occasionally see examples of where the arbors mount directly onto the site posts, without the Mounting Caps. This option arrives with the same threaded rod embedded to the bottom of the arbor, and requires that your installer cut your site posts to perfect 90-degree end-cut. This was our original design, until we discovered that most installers have difficulty cutting a 6×6 on site to these exacting standards.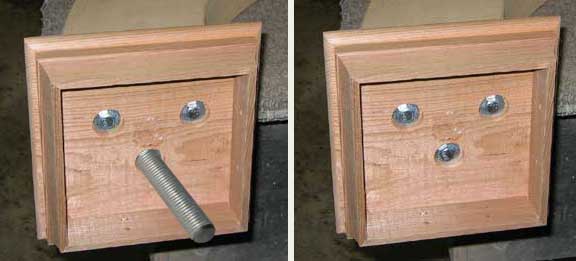 Novato, CA (Marin County)
The original Arbor Style #4. Shown with the original Wood Gate style #79. Fitted beneath an existing courtyard beam. The arbors as full-post assemblies are no longer available.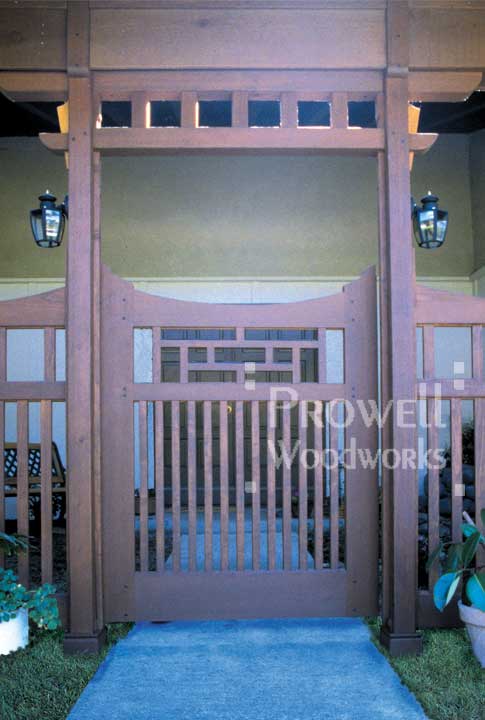 CUSTOM WOOD GARDEN ARBOR #4-2
Novato, CA (Marin County)
Shown with an early Prowell fence (circa 1995)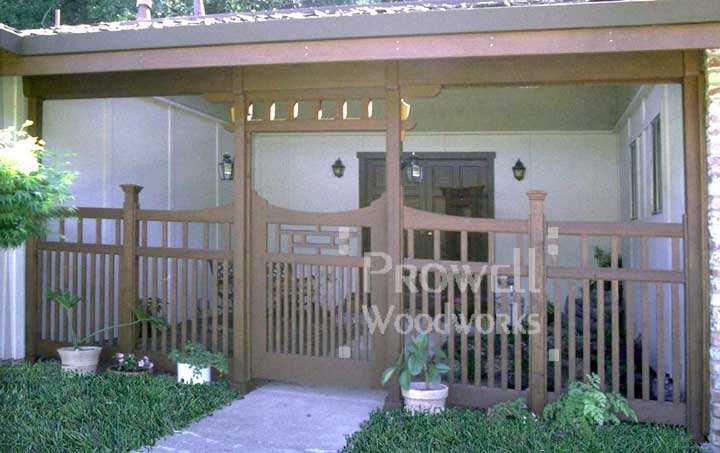 #4–0693-Riddle
#4-1–1026-Ruffner
#45-2— (1995-Moe.)