The sunburst garden gate #206 as a vanishing perspective of expanding arcs, banded by a spoke wheel of continuous tenons.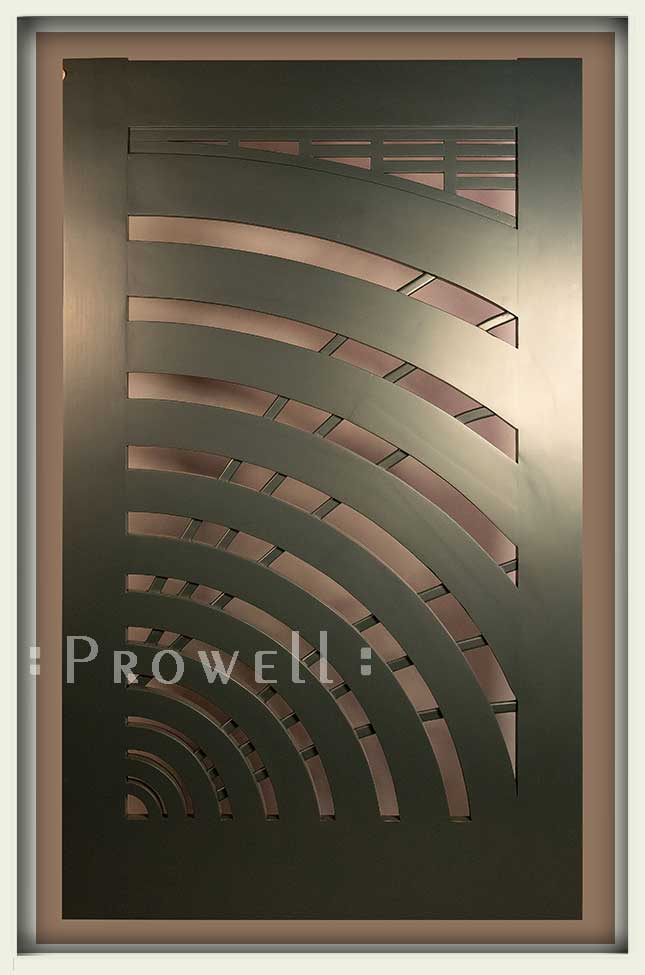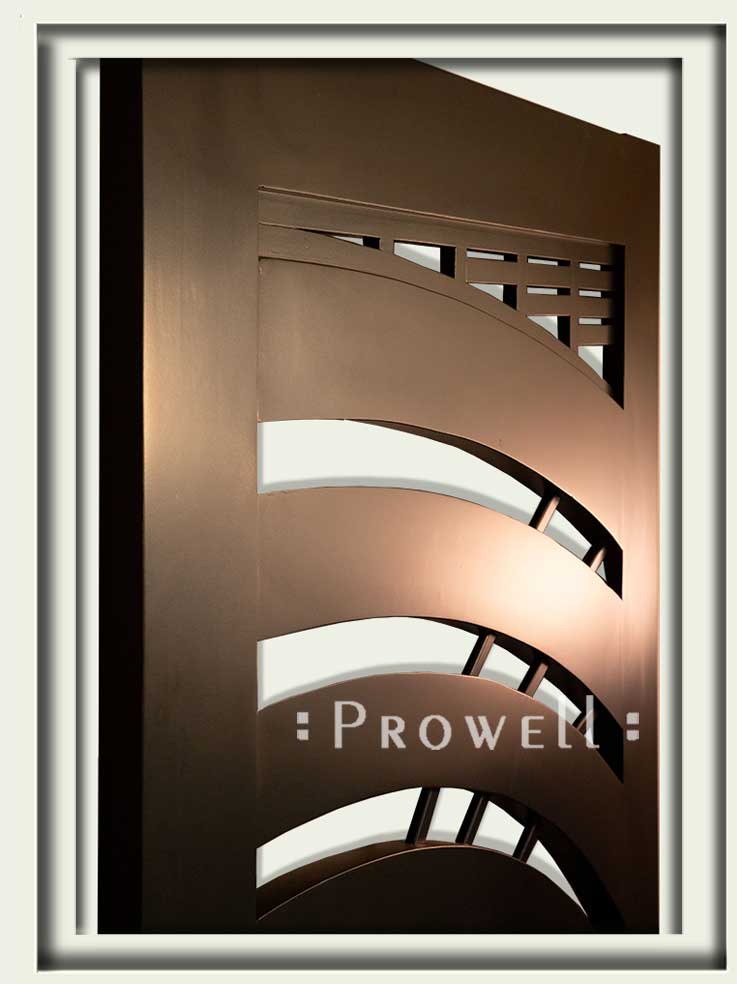 The usual paparazzi lurking outside the prowell shop, disguised as gardeners, repairmen, and homeless vagabonds, poised for that one exclusive photograph that could, in the span of a shutter speed, launch a career.

BUILDING THE SUNBURST GARDEN GATE #206–PROGRESS
Shown here cutting the radius on the bandsaw. With vanishing perspective illusions, no two elements are the same–each fabricated to a diminishing dimension.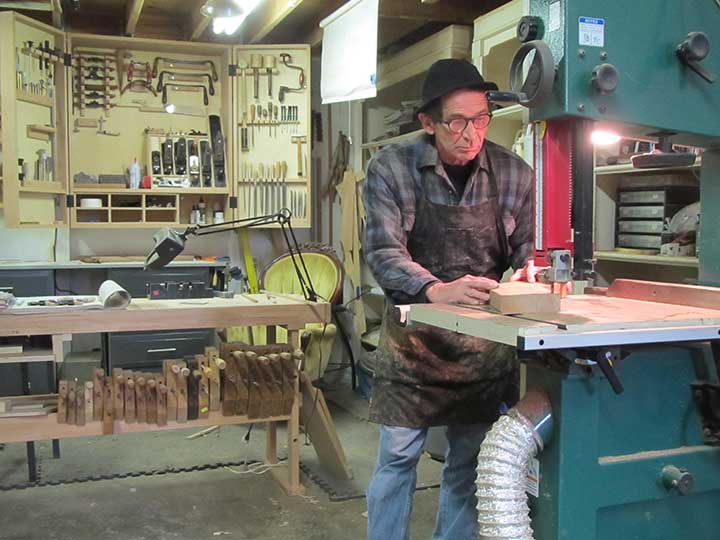 VANISHING PERSPECTIVE GATE #206–PROGRESS
And from the bandsaw to the spindle sander. Were we to cut such a tight radius from a single board, rather than joining two boards as shown, we would save a fair amount of time but be left with the vulnerabilities of what's known as short-graining. At no time should the grain run perpendicular to the width of the radius.
Short graining is often seen in Victorian corbels, with their radius profiles cut from a single board. Where there are short ends with the grain running horizontally, the opportunity for checks and cracks over time are almost certain.
Our contemporary garden gate 206 must, by all accounts, follow this rule. Exposed to the elements on all six sides, such a oversight would have no chance of surviving a full year, much less fifty years.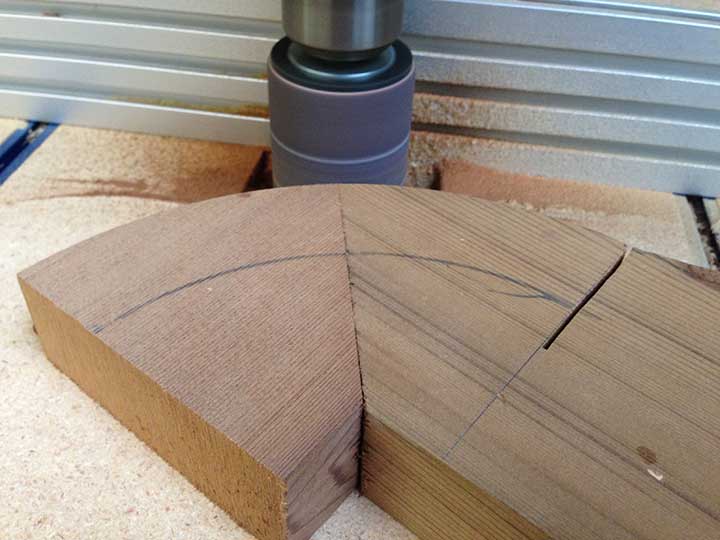 SUNBURST GARDEN GATE #206–PROGRESS
Scribing the arc of the 6th truss. The scribing points, or Beam Compass, are available through Lee Valley Tool catalog, fitted to a stick that is sanded and waxed so the scribe points move easily along the radius stick.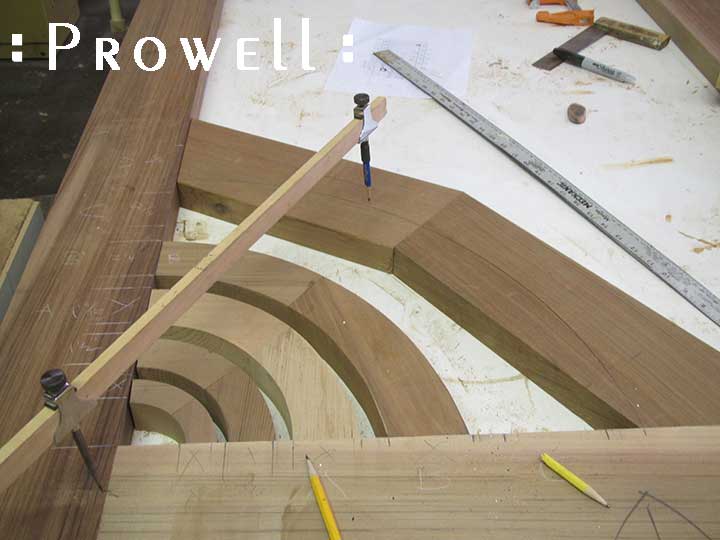 SUNBURST GARDEN GATE #206–PROGRESS
Scribing Points' shown fitted to a longer radius stick. The Scribe Points are adjustable.
Each profile not only increases in its radius, but its width, in keeping with the principles of vanishing perspective illusions. Beginning with a narrower width on the left and spreading to a wider width on the right to create, we hope, a spreading confluence that gradually becomes closer to the top level rail shown at the bottom of the photo.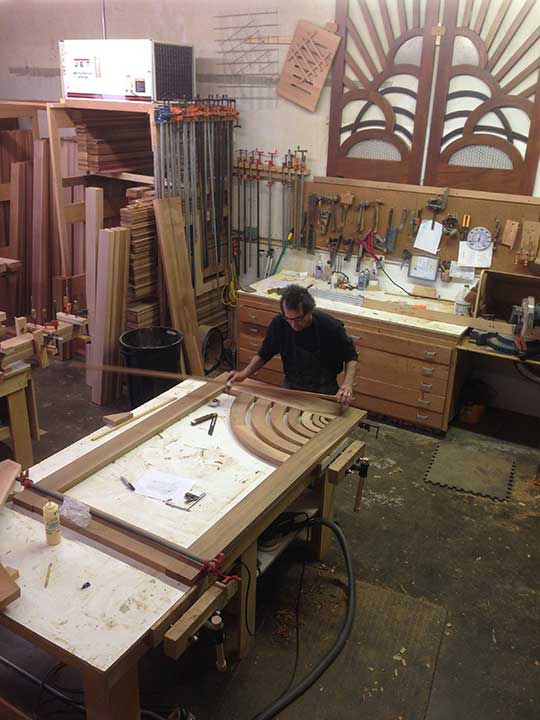 VANISHING PERSPECTIVE GATE #206–PROGRESS
SUNBURST GARDEN GATE #206–PROGRESS
Dry fitting the parts and sketching a few spoke-wheel chalk lines to further the illusion of a vanishing perspective.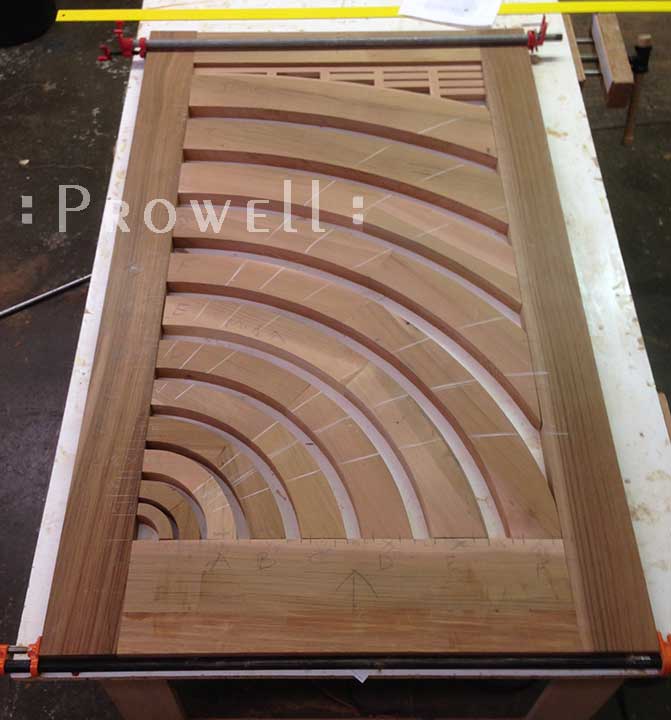 MODERN WOOD GATE #206–PROGRESS
Laying out the trusses to begin furthering the spoke-wheel tenons.
We are addicted to your voices. All your voices calling and writing when for decades consultants have advised how it's better to have someone else answer your inquiries. Someone other than Ben or Charles. It's a commonplace role and one that any number of applicants could employ with a predictably kind and courteous manner. And yet we continue to answer every call and every letter, perhaps because it's as direct a link to so many permutations of humanity than we'll ever know short of becoming social gadabouts.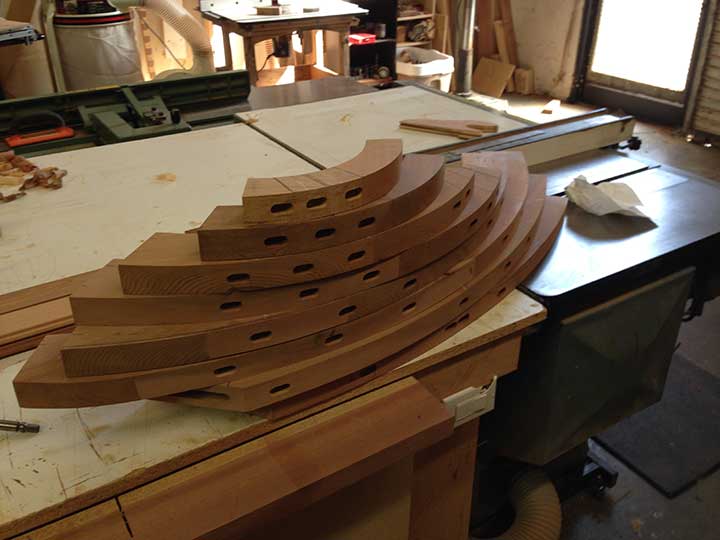 VANISHING PERSPECTIVE #206–PROGRESS
The technique for fitting the multiple tenons along the top and bottom of each truss and at the changing angle of the spoke is, well . . . there is no actual technique. One spoke tenon at a time, and gluing each successive truss to its smaller mate. And so on. At this juncture nothing is glued and joined to the gate's one stile and bottom rail. Just the trusses and tenons until we have them all joined into a single assembly.
On the left, a gate #115 at 60″ width Ben is diligently working on for a Memphis home.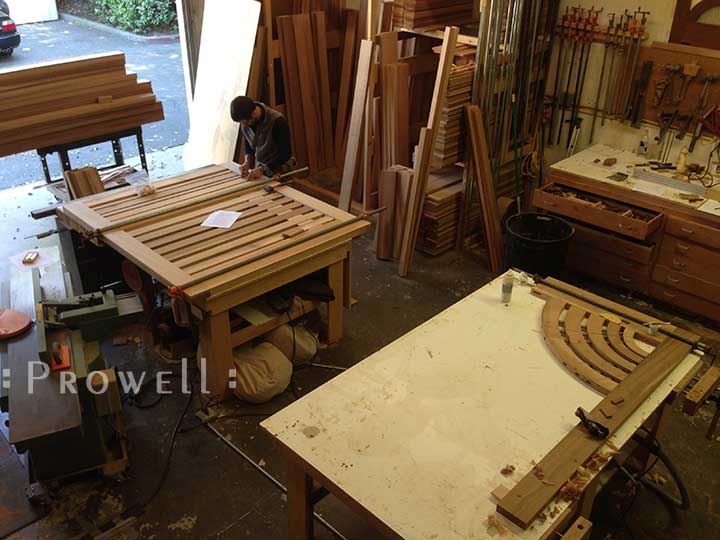 SUNBURST GARDEN GATE #206–PROGRESS
It may be hard to get a straight-on photo until we're all finished and the entire sunburst garden gate can be stood up vertical in it's proper positioning. Until then we'll carry on, lead by the mind's eye, as if lost in a children's book co-written by Dr Seuss and MC Escher.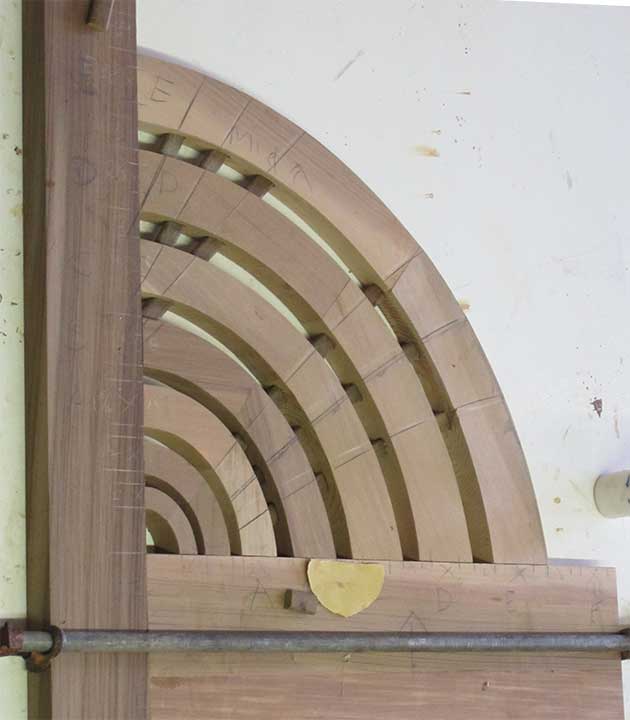 CONTEMPORARY GARDEN GATE #206–PROGRESS
And eventually the rest of the gate, all joined and clamped.
One begins to wonder if what once resided in Charles' mind has been effectively translated. Worth mentioning simply because sometimes what we see and what's seen by others is not the same entity. Everyone looks upon the physical world with their own set of eyes and, metaphysically speaking. we are all aware of the same physical properties–a building, a flower–but our eyes are different, and to further confuse things, there is this phenomenon of how what we see is interpreted by our brains, and all the genetic history inhabiting those brains. A body builder sees something beautiful in the mirror, whereas others may see those efforts as carried a bit too far. There will be those of you who look upon the sunburst garden gate 206 with a triggered association to the ripples in a pond drawn from a tossed stone, while another recalls a pond infested with alligators and snakes.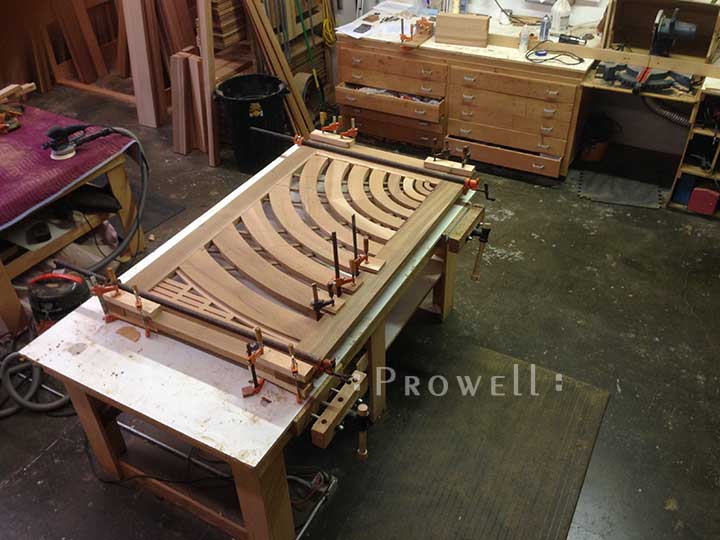 Golden State Gate Builders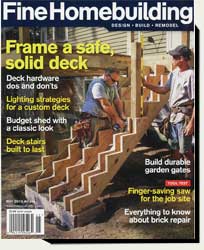 by Ben and Charles Prowell
Featuring gate #206, among others.
Fine Home building April 2016
Click Here for the PDF download
Click Here to view the full Gallery of published Articles and Features.